General Hospital Spoilers: Lulu Falconeri Turns To Sonny For Help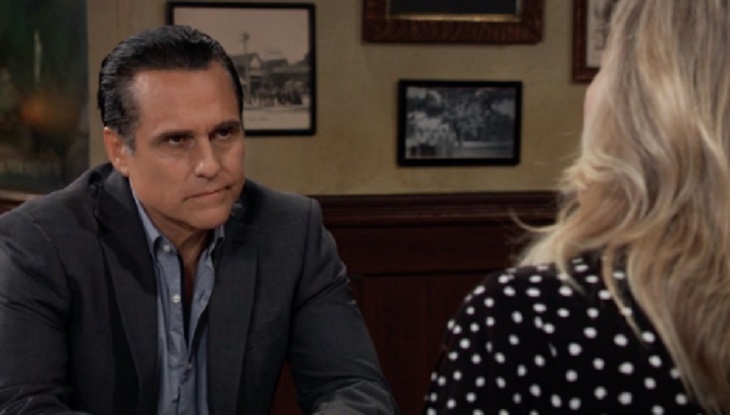 General Hospital spoilers tease that Lulu Falconeri (Emme Rylan) will go to her father-in-law Sonny Corinthos (Maurice Benard) for help.  Monday's previews show she tells him "we need to make this right".
In Friday's episode she had been talking about Sonny going to find her husband, Dante Falconeri (Dominic Zamprogna) and bringing him home to her like he did before, from Turkey. She understands that he went to the WSB for help and treatment for apparent PTSD and brainwashing, but her mother, Laura Webber Collins (Genie Francis) had told her she didn't think the WSB treated their agents all that well, having known of Robert Scorpio (Tristan Rogers) and Anna Devane's (Finola Hughes) experiences. She had pushed Lulu to go get her husband!
General Hospital Spoilers – Is It Safe To Bring Dante Home?
Port Charles and General Hospital probably do not have facilities that would be able to treat Dante, as serious as his problems are; even Ferncliff isn't equipped for the intensive mental care he would need! Laura probably would have done well to get her husband, Dr. Kevin Collins' (Jon Lindstrom) opinion on Dante and his problems before pushing Lulu to bring him home.
No one in Port Charles except possibly Robert knows how bad of shape Dante is in and understand that he left for a good reason; to protect his friends and loved ones, in particular Lulu, from himself! He kept getting what appeared to be post-hypnotic suggestions to "complete the mission" which was to kill her!
It is possible Kevin could have, with time, reversed those suggestions in Dante's mind, but Dante had lost faith that he could be cured, and had told Lulu to move on! Yes, he went home with Sonny from Turkey but if he had known he would be battling something like he was, he probably would not have!
General Hospital Spoilers – Meddlesome Maxie Complicates Matters
Neither Sonny or Lulu know yet that Maxie Jones (Kirsten Storms) and Peter August (Wes Ramsey) went to talk to Dante, having gotten an appointment arranged by Maxie's father, WSB Director Frisco Jones (Jack Wagner) to visit Dante, and thanks to Maxie's stubbornness Dante may be coming home but not like his family or Dante himself would have wanted!
General Hospital Spoilers, Tuesday, July 16: Lulu Is Furious – Kim And Julian Have A Serious Talk – Jax Gets A Warning https://t.co/ZYbgp1OUD7 pic.twitter.com/ic8BinSGTD

— SOS/CTS/HH (@SoapOperaSpy) July 16, 2019
Stay tuned to General Hospital and keep checking GH spoilers frequently for all the latest news, updates and developments! As always, more detailed Spoilers and Breaking news will appear here on Soap Opera Spy!