General Hospital Rumor: Peter August Named Number One Suspect In Lulu's Attack?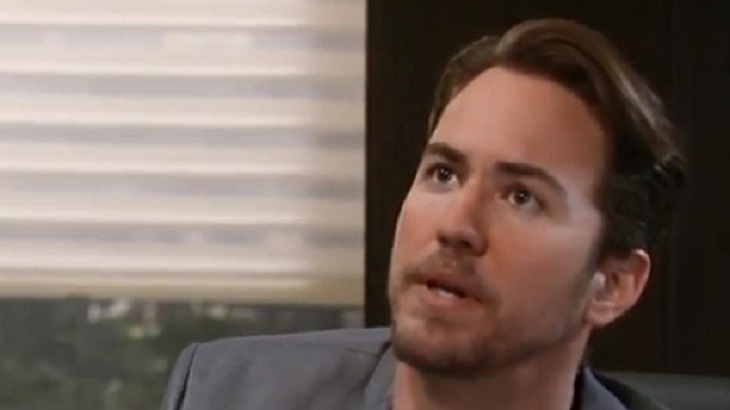 General Hospital spoilers tease that Peter August (Wes Ramsey) may be at least a potential person of interest in the attack on Lulu Falconeri (Emme Rylan) because he was the last one who spoke to her on the phone before the attack.
Commissioner Jordan Ashford (Briana Nicole Henry) has to start somewhere, and since he has no alibi for part of the four hours since the attack, she's just doing her job. As she said to his mother Anna Devane (FInola Hughes) and Maxie Jones (Kirsten Storms) she can't even rule him out as a person of interest without questioning him first!
General Hospital Spoilers – The Bloody Shoe Print
However, as Peter told her, he has nothing to hide, and certainly doesn't have the demeanor of someone who is trying to hide anything. It's possible that the bloody partial shoeprint could exclude him, although it would be easier if it were a whole shoeprint….Ryan Chamberlain (Jon Lindstrom) and Peter may wear different sizes!
General Hospital fans who root for Peter can hope he didn't have to recently clean off anything from any of his shoe bottoms with bleach recently, since that could make him a suspect; bleach is used to clean off blood!
LOVE GH?  SUBSCRIBE TO OUR GENERAL HOSPITAL NEWSLETTER, HERE
It's possible, if Lulu wakes up a lot sooner than expected that she will be able to rule out Peter (if she remembers anything at all—it's common for people to unconsciously suppress traumatic memories, it's a natural protective mechanism).
General Hospital Spoilers – A Person Of Interest
If she can't rule him out or stays in a coma for a period of time, he may be a person of interest and stay that way until he is ruled out another way. It's possible someone may fake an alibi for him if they hear about his dilemma; Valentin Cassadine (James Patrick Stuart) is trying to make up to him for giving him to his father as a baby; so maybe he'll fake an alibi for Peter's unaccounted for time taking a walk.
General Hospital Spoilers: Friday, January 25 – Lulu Clings To Life – Jordan Shocks Anna – Ava Sticks Close To Ryan https://t.co/a1aLSamk05 pic.twitter.com/VdwwYOehf7

— CelebratingTheSoaps (@celebratesoaps) January 24, 2019
But then again, Peter's shoes may rule him out! Stay tuned to GH and keep checking General Hospital spoilers frequently to see if Peter will still have legal problems or will be ruled out as a person of interest or suspect in the case!
As always, more detailed spoilers and a full collection of pictures for the week in question will appear here on Soap Opera Spy, where there will be more clues and hints over exactly what's going on.
General Hospital airs weekdays on the ABC network.
---
Read more news, spoilers, and gossip on our General Hospital homepage
Want up-to-the-minute soaps news, spoilers, and gossip on your social feeds? Just hit 'Like' on our Soap Opera Spy Facebook page