Days Of Our Lives Spoilers: Ted And Hope Go On Their First Date, Will Has A Meltdown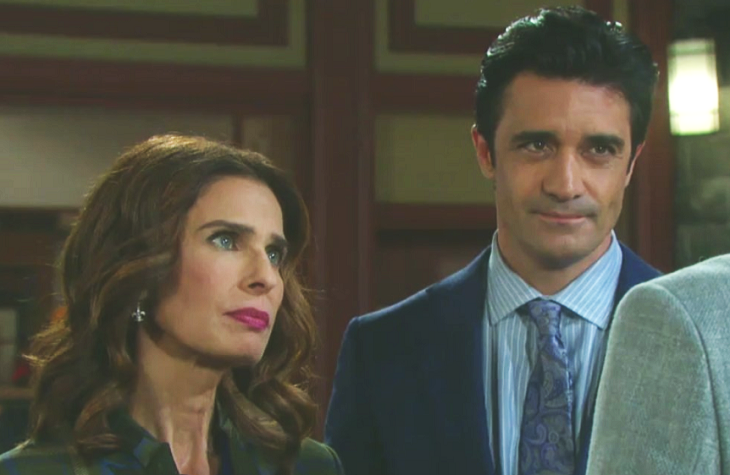 Days of Our Lives spoilers tease that Ted Laurent (Gilles Marini) and Hope Brady (Kristian Alfonso) will have their first real date this week. Since divorces go through much more quickly in Soapland and especially in Salem than they do in real life, where people have to be separated for a year in most cases for a no-fault divorce, it's already a done deal and Hope is free and clear of Rafe Hernandez (Galen Gering)!
Days of Our Lives viewers can expect this to be a very special occasion for Ted especially, and he will probably want to impress "Fancy Face", as her late husband Bo Brady (Peter Reckell) used to call her, with a fancy place!
The fanciest place to eat in Salem is probably Doug's Place. However, it looks like their fancy first date may interrupted according to other Days of Our Lives spoilers, which tease that Will Horton (Chandler Massey) will encounter Ted and Hope somewhere on the same day and have a meltdown at them.
Days Of Our Lives Spoilers – Will Horton Forgets His Grandparents
This will likely be after he looks at his grandparents' plaque in the square and forgets who they are, as his emotional meltdowns usually come in tandem with his memory attacks, which are obviously getting worse and obviously not just short-term memory attacks any more.
Days of Our Lives spoilers indicate that he lays into Ted and Hope the same day, but whether it's before, after, or during their first date is uncertain, just that they are together at the time.
Of course, if Doug's Place is the venue of choice, this will be after the crowd has cleared out after Holly Jonas' (Scarlett and Harlow Mallory) memorial, although they could also meet up with a disapproving Julie and Doug Williams (Susan Seaforth Hayes, Bill Hayes) who had their 25th anniversary celebration right ahead of Holly's memorial.
Days Of Our Lives Spoilers – Will They Go To Doug's Place?
This could however be the day after, but soap days frequently take several episodes to change on the calendar and three to four days real time can equate to soap scene time!
Days Of Our Lives Spoilers: Hattie Adams Returning To DOOL? https://t.co/2K7I0P2M11 pic.twitter.com/Ow5zK2bjAC

— SOS/CTS/HH (@SoapOperaSpy) May 26, 2019
Days of Our Lives viewers didn't see Hope or Ted or even Will and his partner Sonny Kiriakis (Freddie Smith) at the memorial. So their date may or may not be at Doug's Place, and it may or may not be the same day.
Stay tuned to Days of Our Lives and keep checking Days of Our Lives spoilers frequently, for all the latest news, updates and developments!
As always, more detailed Spoilers and Breaking news will appear here on Soap Opera Spy!