Coronation Street Spoilers: Will Billy Be Clayton's Casualty?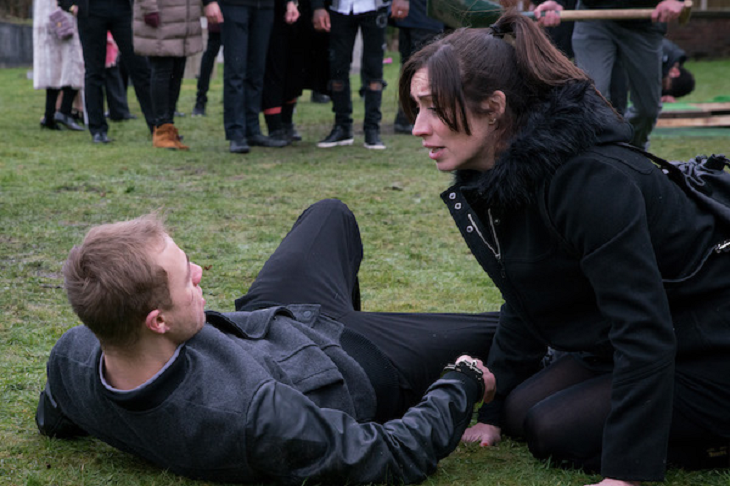 Coronation Street viewers are on the edge of their seats as they see Clayton Hibbs (Callum Harrison) mark his prey before his daring escape when he attends his father's funeral. How far will Clayton go to get revenge and who will be the unfortunate casualty of his fury?
Viewers may recall that Shona Ramsey (Julia Goulding), despite having an inkling that something might go wrong, went to the funeral of her ex-partner, Dane Hibbs (Simon Naylor). Her partner, David Platt (Jack P. Shepherd) tried to dissuade her from attending, especially since her imprisoned son Clayton will also be there.
At first, it seemed that everything was going well but not long after the proceedings started, Clayton's friends managed to free him, allowing him to escape. As he tries to flee, the police captured one of his cohorts, which infuriates Clayton, who then blames Shona and Billy Mahew (Daniel Brocklebank).
Coronation Street – Shona Worried About Billy
Some of his friends confront and pin the blame on Shona, saying that she was responsible for Clayton's friend being arrested. At that time, Billy was right beside Shona, making him one of Clayton's targets.
As the local authorities try to recapture her son, Shona is put behind bars for allegedly aiding Clayton's escape. However, the police eventually set her free. Shona becomes extremely worried about her son, especially now that his friend has been captured.
In some photo spoilers released earlier this month, it was revealed that Shona will end up in the arms of David all covered with blood. Some say Shona may be stabbed by Clayton when he takes his mom as hostage. Others speculate that the blood could be Billy's.
Coronation Street – Seb Will Face Off With Gary Over Sarah
As Shona defends herself from Clayton's attack, it is possible that Billy may step in to save her. He may end up getting injured once Clayton spirals out of control.
COMING UP AT 7.30PM – HOUR LONG EPISODE
Paul passionately defends the planned bail hostel – will Billy see him in a new light? #Corrie pic.twitter.com/VLHKQi6kPx

— Coronation Street (@itvcorrie) March 1, 2019
The drama on Coronation Street continues as Seb Franklin (Harry Visinoni) faces off with Gary Windass (Mikey North) when the latter finds out that Seb is in love with his girlfriend Sarah Platt (Tina O'Brien).