Young and the Restless Weekly Spoilers December 10 to 14: Mariah Blasts Sharon – Nikki Hits The Bottle – Mia Causes Trouble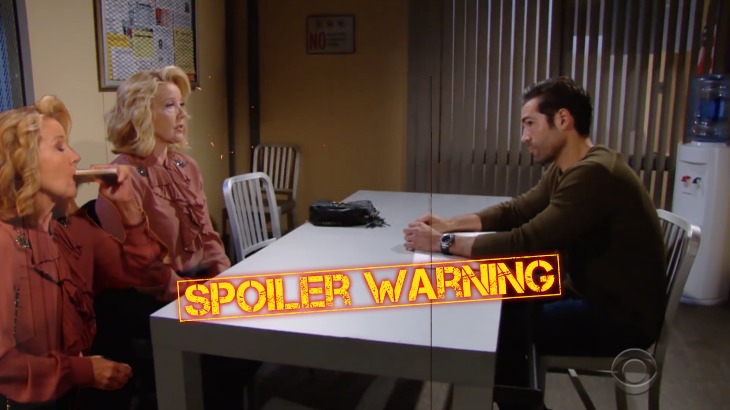 "Young and the Restless" (YR) spoilers for the week of Monday, December 10, 2018 through Friday, December 14, 2018 reveals that "Y&R's holiday survival guide, cover your tracks, watch your back, and lawyer up." We have a very exciting week heading our way and you will not want to miss a moment of the action!
Y&R Spoilers – Mariah Tells Sharon She Crossed The Line
In the newest CBS "Young and the Restless" promo video we hear Mariah Copeland (Camryn Grimes) telling her mother Sharon McAvoy (Sharon Case) that she crossed a line. Mariah will learn that Sharon had part in kidnapping Tessa Porter (Cait Fairbanks) and dumping her into the woods. Once Mariah makes sure Tessa is safe she will go and confront her mother about her bullying tactics.
Mariah will be very disappointed that Sharon would do such a thing to Tessa. Sharon will not regret what she has done and will remind Mariah that Tessa is a con and a liar. They will definitely not see eye to eye and this is going to put a strain on their relationship. Do you Y&R fans think Mariah should stay with Tessa? Do you think Sharon is right about her?
Young & The Restless – Nikki Hits The Bottle
Meanwhile, Nikki Newman (Melody Thomas Scott) will be under a lot of stress this week as she works to change Rey Rosales' (Jordi Vilasuso) mind about thinking Victor Newman (Eric Braeden) is guilty for J.T. Hellstrom's (Thad Luckinbill) death. Nikki will meet up with Mia Rosales (Noemi Gonzalez) and tell her that they could be good friends if Rey wasn't out to get the Newmans. With her telling her this, do you think Mia will try to get Rey to back off so it will benefit her?
Who do you think that piece of evidence belongs to? ? #YR pic.twitter.com/dhSicSBQcX

— Young and Restless (@YandR_CBS) December 6, 2018
All the stress will lead to Nikki turning to the bottle again and will put her on a very dangerous path. Nikki may soon be going down a road that she will not be able to come back from. Do you Y&R fans think something is going to happen to Nikki?
Weekly Y&R Spoilers – For the other residents of Genoa City…
Other "Young and Restless" spoilers suggest that Jack Abbott (Peter Bergman) makes a bold move. Phyllis Summers (Gina Tognoni) will keep a secret from Nick Newman (Joshua Morrow). Cane Ashby (Daniel Goddard) will make amends with Devon Hamilton (Bryton James). Lauren Fenmore Baldwin (Tracey E. Bregman) will give Fenmore Baldwin (Zach Tinder) a wake up call. Mariah Copeland is forced to choose sides.
Sharon McAvoy will make a confession. Mia Rosales will stir the pot. As you can see we have a very eventful week coming up, so make sure to stay tuned to CBS's "The Young and the Restless" to see the drama unfold. Don't forget to check often with Soap Opera Spy for all your latest spoilers, news, updates, and much more.
LOVE Y&R? SUBSCRIBE TO OUR THE YOUNG & THE RESTLESS NEWSLETTER, HERE!
As always, more detailed spoilers and a full collection of pictures for the week in question will appear here on Soap Opera Spy, where there will be more clues and hints over exactly what's going on.
Soap Opera Spy is a leading source for everything linked to 'The Young and the Restless'.
Read more news, spoilers, and gossip on our Young & Restless homepage
Want up-to-the-minute soaps news, spoilers, and gossip on your social feeds? Just hit 'Like' on our Soap Opera Spy Facebook page and 'Follow' on our @soapoperaspy