The Young and the Restless (YR) Poll: Will Ashley Go To Prison? – Graham's Frame Results in His Death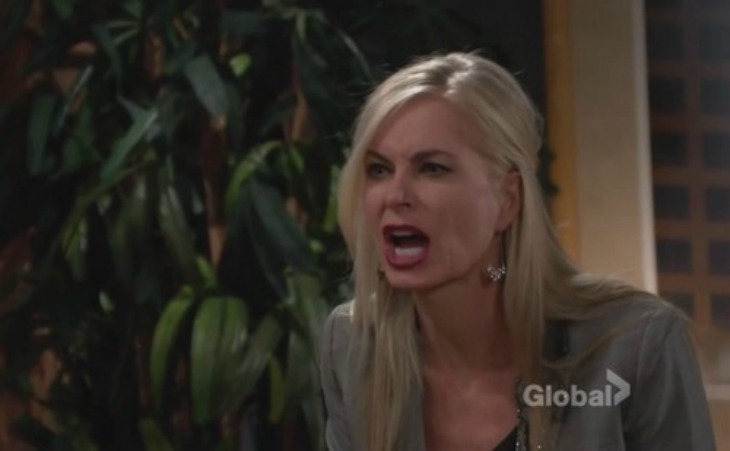 Graham (Max Shippee) intended to frame Ashley (Eileen Davidson) for murder on 'The Young and the Restless'. Instead, his attempt to inject Dina (Marla Adams) with a toxic chemical boomeranged. So will Graham's unexpected death lead to Ashley's imprisonment, or will evidence be obtained quickly enough to clear her name?
Soap fans are smart. They know that Ashley will hardly spend the rest of her days in a Wisconsin prison. But will she be temporarily locked up as the suspected killer of Mr. Bloodworth? That's the question being asked of Y&R fans in this feature.
Related: Y&R Eric Braeden Hits The Red Carpet With Son Christian Gudegast For His New Movie
The fitting ending to Graham's arc saw Adams' sympathetic character reverse his attempt to kill her. While his plan was meticulously, it hit a dramatic glitch in the Bloodworth's Genoa City Athletic Club suite.
As viewers recall, Graham was introduced as Dina's companion in 2017. The Abbott family, most especially Ashley, was suspicious of his intentions toward Madame Mergeron.
Dina opted to change her will last summer, which made Graham the main heir to her fortune. She later suffered a mini-stroke after a tumultuous public event at the Top of the Tower, where Graham admitted to despising Dina. That was just one location where Ashley expressed her rage toward Shippee's character in front of witnesses.
Graham's family was torn apart in the 1960's when Brent Davis (Bert Kramer) cavorted with Dina, which resulted in Ashley's birth. Graham and his mother later decided to target Dina while she was living in Paris, where she ran her deceased second husband's company.
The revealed medical power of attorney Graham held was later legally enhanced by a valid marriage ceremony that took place after Dina was taken to Florida in the fall. With that, his theft of Jabot chemicals and having tricked Ashley into recently grasping a syringe, Graham claimed was for his Diabetes' need, all seemed set for Dina's demise.
LOVE THE YOUNG AND THE RESTLESS? SIGN UP FOR OUR Y&R NEWSLETTER!
But Mrs. Bloodworth gave her faux spouse the surprise of his life. Therefore, the solid acting efforts of Shippee have seemingly ended.
Fans of 'The Young and the Restless' rightfully express their opinions on a regular basis. So, will Ashley go to prison for the murder of Graham? Please vote in our poll below!
Soap Opera Spy is a leading source for everything linked to 'The Young and the Restless'.
Share your thoughts in the Comments section below, on our Facebook Page,  join our Facebook Group