Neighbours Spoilers: Ryan Thomas Teases Aussie Debut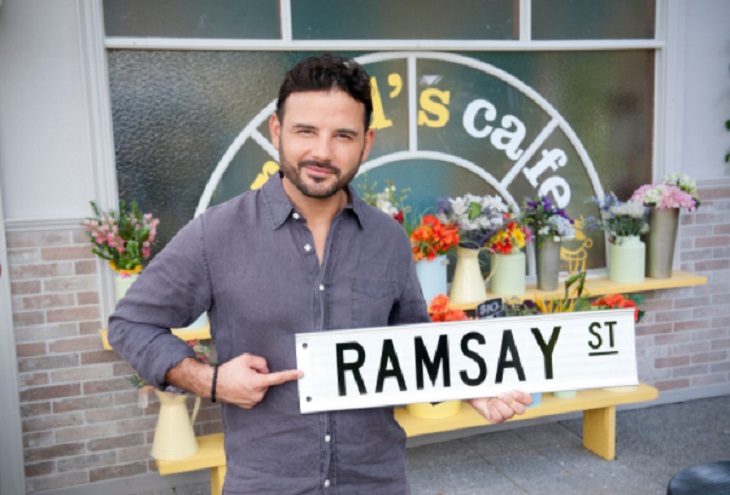 We've been reporting it for months but English soap star Ryan Thomas is finally making his debut in Neighbours!
The actor will hit our screens next week in the Australian soaps first late-night special of 2018, playing mysterious character Rafael Humphreys.
Ryan recently sat down with Digital Spy to spill all the gossip on Rafael – his love life, his dark history and his vendetta against a certain Erinsborough resident.
What can we expect from Rafael?
"Rafael is very different from my Corrie character Jason Grimshaw and that's why I took this role on. He's still northern, although he grew up in Brazil until he was 10 years old, then he moved back to Manchester. You'll see that Rafael is very troubled. When he went to Brazil with his mother, his mum worked in a factory there. There was an incident where his mum was badly hurt and Rafael was too. Rafael has got to his 30s now and he knows that someone in Erinsborough is responsible for what happened. So he's got to go there to get answers and get revenge, because this has been playing on his mind for so many years. Rafael has terrible scars on his back, which he feels very insecure about. He's a real mixed bag of emotions and you'll see that play out across the 18 episodes that I'm in."
How do you feel about making your first appearance in the 10pm special?
" It's great that it's coming out at 10pm and it's my first appearance on Neighbours. It's brilliant to come in with a bang. It'll be a real change for the viewers to see me in a different light. My character isn't interacting with anyone at first, but you'll see Rafael lurking in the back of everybody's shots. At first, you'll wonder what this guy is doing there, but you'll find out more as time goes on."
Rafael has a huge grudge against Paul Robinson – what was it like to work with Stefan Dennis?
"Stefan has been a real joy to work with, he's such a talented human being. I learned a lot from him. It annoyed me how effortless he made it look! Don't ever take for granted how hard that guy works and how much he puts into it. I've been watching him very closely and he's been a real eye-opener for me. His form of acting is amazing and I love it."
What can we expect from Rafael's exit?
"My exit is quite sad. By the end of it, people are going to find out whether Rafael is a good guy or a bad guy. I was going to tell you which then, but I won't because you might as well find out as it goes along. You'll want to go on that journey with Rafael. For Rafael's character, you'll see a mixed bag of emotions of what he is and who he is, and then you can make your own decision."
Make sure to tune into the Neighbours special movie length episode, which airs next week!
Share your thoughts in the Comments section below, on our Facebook Page,  join our Facebook Group