General Hospital Spoilers: Sam Shares Haunting Past With Jason Morgan – Needs Stone Cold's Help With Leland Powell Mystery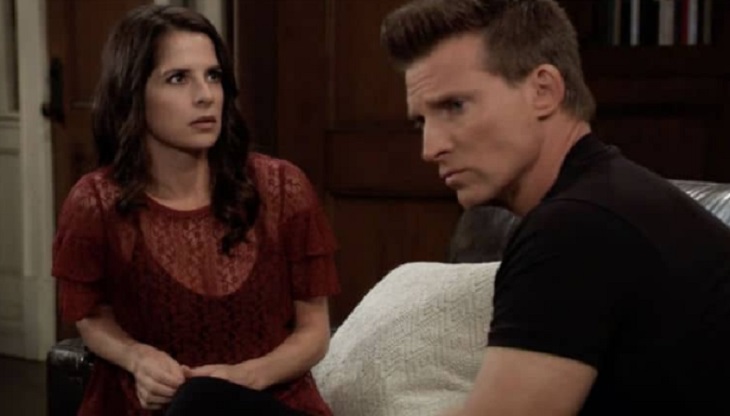 General Hospital spoilers tease that Sam McCall (Kelly Monaco) will soon tell Jason Morgan (Steve Burton) about the things in her past that have recently come back to haunt her, and enlist his help! Sam has sent an email to the person she and Curtis Ashford (Donnell Turner) tracked down as having paid for the subscription to the Galena, Illinois newspaper for Yvonne Godfrey (Janet Hubert).
When the name came up as an alias she herself had used, "Linda Black", she knew there was more to it than someone related to Leland Powell possibly wanting revenge! Whoever this is knows about Sam's marriage scams and the aliases she used, and her name and address in Port Charles, since Leland Powell's obituary had been mailed to her at home!
General Hospital Spoilers – Who Is Stalking Sam?
This person or people are getting a little too close for Sam's comfort. All these marriage scams she pulled on older, rich men were over fifteen years ago, and she used different aliases and then disappeared. Sam doesn't understand who would have dug so deep into her closet full of skeletons and for what purpose!
With Jason being in the loop, she may feel a little more protected, and one more person trying to get to the bottom of this certainly can't hurt. Jason probably knows about this part of Sam's past already, although maybe not in detail.
LOVE GH?  SUBSCRIBE TO OUR GENERAL HOSPITAL NEWSLETTER, HERE!
General Hospital Spoilers – Legal Trouble Next?
The person or persons responsible for this "voice from the past" could even be a law enforcement entity such as the FBI who has been tracking Sam for years, and maybe only now has gotten enough evidence on her to pursue legal action; but why go about it this way?
General Hospital Spoilers: Who Will Be Ryan's Next Victim? https://t.co/Vw3SKZoRsc pic.twitter.com/JfZlaZVPRa

— CelebratingTheSoaps (@celebratesoaps) December 17, 2018
Why don't they just show up at her door with a warrant, if this is a sting going back years? Or are they trying to get evidence by fishing for it and trying to flush Sam out? This is only the beginning of Sam's troubles if she's the subject of a years-long sting! Keep watching General Hospital and checking General Hospital spoilers frequently to see what happens and how this story develops!
As always, more detailed spoilers and a full collection of pictures for the week in question will appear here on Soap Opera Spy, where there will be more clues and hints over exactly what's going on.
General Hospital airs weekdays on the ABC network.
---
Read more news, spoilers, and gossip on our General Hospital homepage
Want up-to-the-minute soaps news, spoilers, and gossip on your social feeds? Just hit 'Like' on our Soap Opera Spy Facebook page
[fvplayer src="https://www.youtube.com/watch?v=0wAL6ILnr8Y" splash="https://sos-wp-media.s3.amazonaws.com/wp-content/uploads/2018/12/general-hospital3.jpg" width="730″ height="400″]