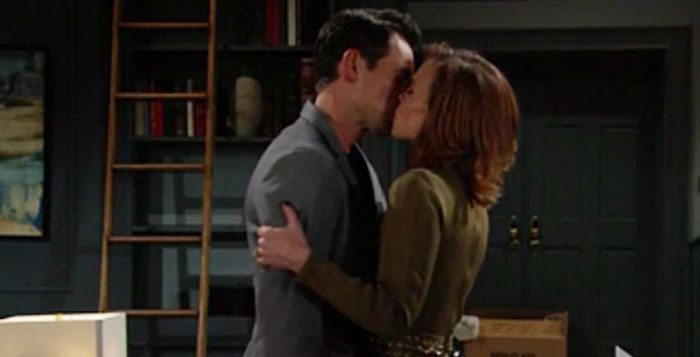 Billy (Jason Thompson) sent Phyllis (Gina Tognoni) a text on 'The Young and the Restless'. He told her that he was going to the Abbott cabin. She saw the digital love note after Jack (Peter Bergman) poured his heart out to his wife. Shortly thereafter Philly was together in the woods.
In another ode to the old Phyllis (meaning the original, as played by Michelle Stafford), Tognoni's character was asked to lambast Jack, Ashley (Eileen Davidson) and Abby (Melissa Ordway). The current 'Red' did so because they were planning to attending Adam's (Justin Hartley) memorial service on Y&R. Phyllis believed that offering their condolences to the "hypocrite" Victor (Eric Braeden) was wrong. The Abbott clan disagreed.
After Abby gave Phyllis a piece of her mind, Ashley escorted her out of Jabot's main office. Jack told Phyllis that he understood how she felt. Then, he went a step further, by advisingi' that he believed in her passion and knew she was fiercely loyal to him and their marriage.
You Might Also Like —> Summer Confronts Luca – Dylan Needs Stitch's Help – Jill and Billy Face Off
Phyllis' eyes filled with tears while Jack was speaking. She knew that he was the better person. At the same time, Phyllis again realized that she was lying to her husband's face. She couldn't bear the emotional weight and made a beeline for the corporate elevator doors.
Once upon a time the electric Stafford first embodied the role of Phyllis. But, her departure from 'The Young and the Restless' for 'General Hospital (Nina Clay) created the need for a recast. Stafford turns 51 on September 14 and still looks terrific. Tognoni, who turns 43 on November 28, does look physically younger than Stafford. Thompson turns 40 on November 15. So, it's possible that an age factor has played into the current storyline. Bergman turned 63 on June 11.
You Might Also Like —> Adam Mystery Continues, Gloved Hand Has His Ring – Billy Refuses to Share Phyllis – Jack Supports Victor
Philly will be exposed at some point. The fall seems like a good time period for this explosive storyline to climax. How the often unlucky in love Jack will react can only be imagined. Tognoni and Thompson are far closer in age to each other than Tognoni is to Bergman. So, possibly the coming reshuffling of characters is intended to readjust viewer perceptions along more traditional lines while also creating a new arc.
Soap Opera Spy is a leading source for everything linked to 'The Young and the Restless'.
Share your thoughts in the Comments section below, on our Facebook Page,  join our Facebook Group or Head over to our Discussion Board to Talk Soaps Daily!