"The Young and the Restless" spoilers for Tuesday, October 25, tease that Cane's (Daniel Goddard) job will continue to interfere with family plans. At the athletic club, Lily (Christel Khalil) walks in with Neil (Kristoff St. John) and the twins after their Halloween play. The kids are bummed that Cane couldn't make it and point out that he's sitting across the room.
Lily walks over and Cane introduces the female buyer he's been talking to. After Cane resumes his meeting, the woman hints that she'd like to do business with Brash and Sassy. Meanwhile, the twins start getting a little rowdy and the buyer gripes about it. Cane indicates that his children are the culprits. He points out how much they mean to him and goes to settle them down.
The buyer watches Cane give some hugs and reveals that she's interested in making a deal. Meanwhile, Sharon (Sharon Case) freaks as Patty (Stacy Haiduk) taunts her over the phone. She finally hangs up, but it's easy to see that Dylan (Steve Burton) is suspicious. Mariah blames the call on a telemarketer.
Dylan feels like Sharon is upset, but she distracts him by asking for Sully's blanket. When he goes to retrieve it, Sharon cries that she's going to lose her son. Mariah urges Sharon to get a grip. They hope that Patty will be transferred to some distant location.
Dylan comes back and grills Mariah about Patty. He doesn't understand how she figured out Patty was making the calls. Sharon brushes it off as a theory that just happened to be right. At Patty's facility, Paul (Doug Davidson) asks some questions of his own. He asks Patty if she was behind the prank calls.
Patty begins joking around, so Paul shifts to the painting. He points out that Sharon was pregnant in it and wonders what the meaning is. Patty says she paints her secrets and recalls that Dr. Anderson (Elizabeth Bogush) was a bad woman. Suddenly, Patty has a major outburst and Paul asks if he can get some help in there.
The doctor recommends a transfer for Patty and Paul goes along with it. Later, Patty remembers stabbing Dr. Anderson. She soothes herself with a lullaby. Back at Sharon and Dylan's place, Paul shows up to give them Patty's transfer news. He adds that Patty suggested she helped Sharon at Fairview.
Paul tries to get to the bottom of what that means, but Sharon suggests that none of it makes any sense. Dylan agrees it's a mess and Paul heads on his way. Sharon wants Dylan to stop worrying about her. She gives him a reassuring kiss.
Other "Young and the Restless" spoilers say Kevin (Greg Rikaart) will face an awkward predicament. At the penthouse, Chloe (Elizabeth Hendrickson) and Kevin have just wrapped up a sex session. Kevin heads downstairs in the buff and is shocked by Chelsea's (Melissa Claire Egan) arrival. He covers up what she doesn't need to see and tries to play it cool.
Kevin eventually gets dressed and makes a quick getaway. Chloe chats with Chelsea about how well things are going. Chelsea expresses some concern for Kevin. She knows this is all very real for him. Chloe promises she's committed and doesn't want to cause any pain.
Talk turns to Chelsea finding happiness again. Chloe feels like Chelsea needs to forget about Adam (Justin Hartley) and move on. Chelsea seems somewhat offended. Adam was her world and she doesn't get why she needs to erase him from her memory.
Chloe apologizes for overstepping. She just wants Chelsea and Connor (Gunner and Ryder Gadbois) to have better days ahead. Chloe feels like the future is bright for her own life as well as Bella's (Cali May Kinder). She's warmed up to the idea of pursuing a romance with Kevin.
Chelsea points out that she's in a different situation. Adam will always be on her mind and in her heart. At Crimson Lights, Kevin meets up with Mariah. He wonders what's bothering her and she fills him in on the latest call. Kevin tries to trace it, but he finds that the phone line warrant has already expired.
Kevin admits that he's officially back together with Chloe. Mariah wishes them well and tries to be supportive. Kevin decides to give Chloe a call to tell her goodnight. Y&R rumors hint that Chloe's baggage could create some crushing obstacles soon. Stick with the CBS soap for updates on what's in store.
So Y&R fans, what do you think about these "Young and the Restless" spoilers? Voice your opinion in the comments below and don't forget to check Soap Opera Spy often for the latest "Young and the Restless" spoilers, rumors, updates and news.
Share your thoughts in the Comments section below, on our Facebook Page,  join our Facebook Group or Head over to our Discussion Board to Talk Soaps Daily!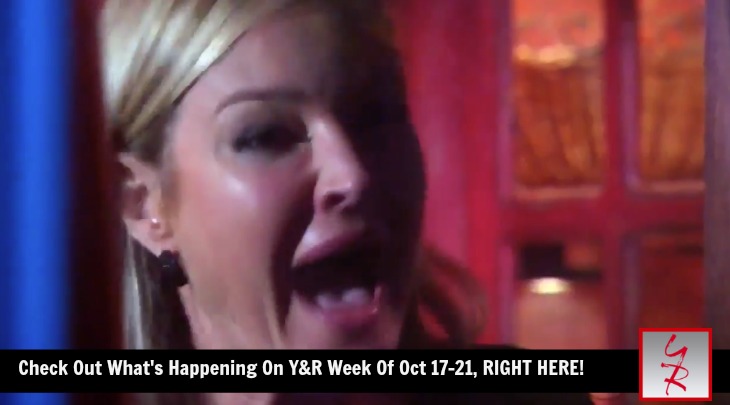 Take A Minute to Try Our Fun Y&R Puzzle!
Great Y&R Products!