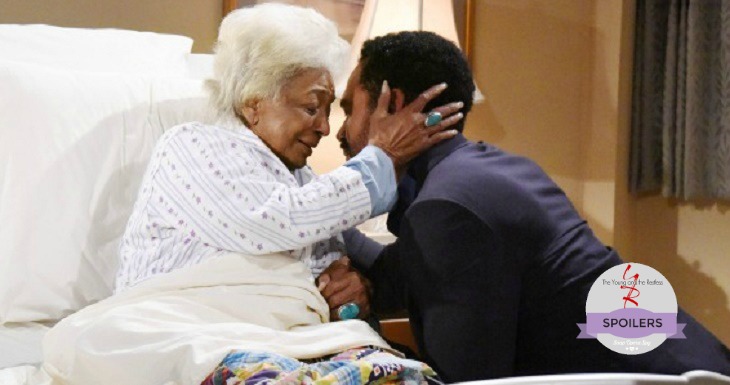 Neil (Kristoff St. John) made peace with his mother before she died on 'The Young and the Restless'. Now, he needs to learn from their deeply emotional reunion to make lasing amends with and among his family. The life-changing experience he had with Lucinda (Nichelle Nicholls) on her death bed can be used for the good of all.
Related: Is Victor Just as Guilty as Chloe in the Death of Adam? Vote in Our Y&R Poll!
Science has come to project alcoholism as a disease, instead of a choice. But, free will must never be ruled out of this, or any other drug equation. Those who do so dangerously enable certain personality types to blame genetic tendencies, fate, or both for whatever tough situations people face in their lives. That attitude isn't fully enlightened, or completely compassionate, it's naive.
Lucinda took the blame for her battle with the bottle and openly admitted that to her estranged son. Many misguided mothers don't get the chance to apologize to their children for whatever wrongs they committed in the real world. Serious storylines like this one help to promote growth and responsibility among soap opera audiences, which underscores the importance of this genre once more.
By relenting to his children's plea, Neil created an unexpected opportunity for himself and his mother. After initially verbally berating Lucinda, she was able to break through his understandable emotional wall. He learned why she left his family during his youth and that he shared her affliction. Whether Neil's alcoholism was genetically received through his mother, or not, isn't the point. Neil finally understood the truth within his family history and was able to bond with his mother during her final moments on earth. He also gained a deeper insight into his own soul.
Related: Adam's Loved Ones Honor His Memory, Jack Plans to Attend – Victor Reaches Out to Chelsea
Lily (Christel Khalil), Devon (Bryton James), Moses, Cane (Daniel Goddard), the grandchildren and yes, Hilary (Mishael Morgan), represent the light in Neil's life. With whatever transpired to-date, or will take place in all tomorrow's, can't be more important than family love. That's the final gift that Lucinda gave to Neil before she died. Now, he must learn how use it.
Soap Opera Spy is a leading source for everything linked to 'The Young and the Restless'.
Share your thoughts in the Comments section below, on our Facebook Page,  join our Facebook Group or Head over to our Discussion Board to Talk Soaps Daily!