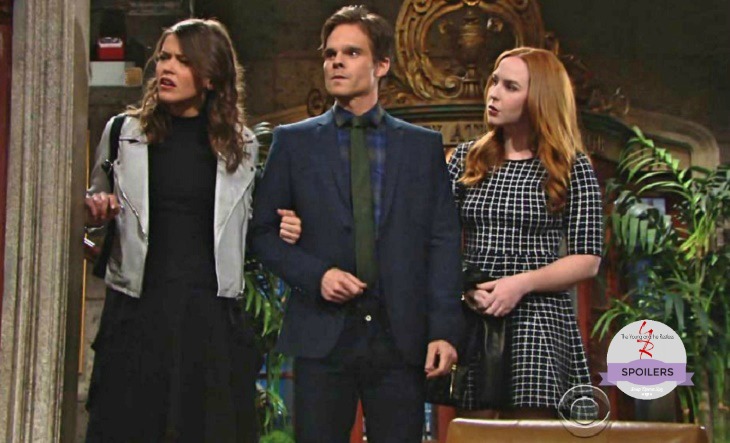 "The Young and the Restless" (Y&R) spoilers tease that Kevin Fisher (Greg Rikaart) will have the decision to make in the coming weeks about who he wants to be with – Mariah Copeland (Camryn Grimes) or Natalie Soderberg (Mara McCaffray)?
Each woman has her own strengths and weakness, and Kevin has a connection with both of them.  With Natalie, the relationship is simple—she's funny, smart, and showers him with attention. It helps that they have a lot in common, and understand each other's love for computers. That's not to discount his relationship with Mariah, by any means. They have been through a lot together and have developed a bond, and let's be honest, a pretty complicated relationship. Their connection to each other is difficult to define, yet it continues to be an important one for both of them.
Related: Sharon Suspects Nick Knows Baby Sully Secret, Begins To Unravel
Greg Rikaart, the actor who portrays Kevin revealed to CBS Soaps In Depth that he isn't sure which woman is the right one for his alter ego. He noted that he briefly mentioned some time ago that he thought it would be great if they gave Kevin a "gay storyline." The actor recently married his long-time boyfriend/partner in a beautiful ceremony. Instead, TPTB gave him a storyline any man, gay or heterosexual would want—Two gorgeous women are fighting over him, and there's no indication of it dying down.
Yesterday, we reported that revealed that Elizabeth Hendrickson will reprise her role of Chloe Mitchell. She has a connection to Kevin as well, and could cause trouble in his love life. He adores her, and could forget both Mariah and Natalie if Chloe decides she wants to be with him. At this point, no one knows any details about Chloe's return other than she will be back for an extended amount of time.
Related: Sofia Pernas' Big Move To Primetime On Hold
As for Greg Rikaart and his storyline about the women fighting over him—He hopes the storyline drags for months. "I'm living the dream. I have two gorgeous women fighting to be around me. It's a gay actor dream come true," Greg chuckled.
"The Young and the Restless" fans, who do you think Kevin should choose to be with—Mariah, Natalie or Chloe? Don't forget to come back later for more juicy soap opera scoops, news, and casting updates.
Share your thoughts in the Comments section below, on our Facebook Page,  join our Facebook Group or Head over to our Discussion Board to Talk Soaps Daily!