'The Bold and the Beautiful' Spoilers: Zende and Nicole at Odds Over Surrogacy Request – Steffy Thinks Wyatt Blew It, Quinn Is Grateful
"The Bold and the Beautiful" spoilers for Thursday, October 13, tease that Zende (Rome Flynn) and Nicole (Reign Edwards) will hit a bump in the road. Rick (Jacob Young) and Maya's (Karla Mosley) request really struck a nerve for Zende. He'll express his outrage and hope that Nicole feels the same way.
Thursday's B&B preview video shows Zende saying, "I cannot believe the audacity of Maya and Rick…asking you to have another baby for them?!" Zende will insist that Nicole should give them a hard pass this time around. Nicole gave Rick and Maya an amazing gift, but she shouldn't feel obligated to give them anything else.
Of course, it may not be that simple for Nicole. She has a strong bond with her sister and she doesn't want to let her down. Plus, it would be nice for Lizzy to have a sibling to grow up with. "The Bold and the Beautiful" spoilers suggest that Nicole may start to consider the idea.
Naturally, Zende will think Nicole is crazy for wanting to go down this path again. She finally fulfilled all of her duties and has moved on. Zende will wonder if Nicole truly wants to give up another nine months of her life. It's a huge sacrifice and it will affect both of them.
Rick and Maya could easily find a different surrogate, but Nicole may want to bring this child into the world. Zende and Nicole could be headed for some major trouble if this actually happens. "The Bold and the Beautiful" rumors hint that Sasha (Felisha Cooper) and Zende could be drawn to each other pretty soon.
Meanwhile, Quinn (Rena Sofer) will let Wyatt (Darin Brooks) know that she appreciates what he did for her. Wyatt knew he had to tell the truth about Eric's (John McCook) power of attorney. It was the right thing to do, but it cost him big time. Quinn will be sorry that Steffy (Jacqueline MacInnes Wood) bailed, but she'll hope that her gratitude will ease Wyatt's pain.
While Wyatt sulks, Steffy and Ridge (Thorsten Kaye) will debate the situation. They'll feel like Wyatt gave up his last chance to get away from Quinn. Still, Steffy may question if turning her back on Wyatt was the best move.
Ridge will likely contend that it was the only option. Neither one of them wants Quinn anywhere near their family. Will Quinn really cause the drama they expect? We'll give you updates as more news comes in. Stay tuned to B&B and don't forget to check Soap Opera Spy often for the latest "Bold and the Beautiful" spoilers, rumors, updates and news.
Share your thoughts in the Comments section below, on our Facebook Page,  join our Facebook Group or Head over to our Discussion Board to Talk Soaps Daily!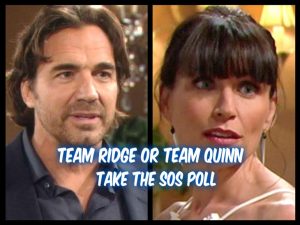 GREAT  Bold & Beautiful PRODUCTS!