'The Young and the Restless' (YR) Spoilers Thursday August 20: Jack Asks Victor's Help Ending Marco, Neil Shows Hilary Video-She Disappears, Noah Confronts Harding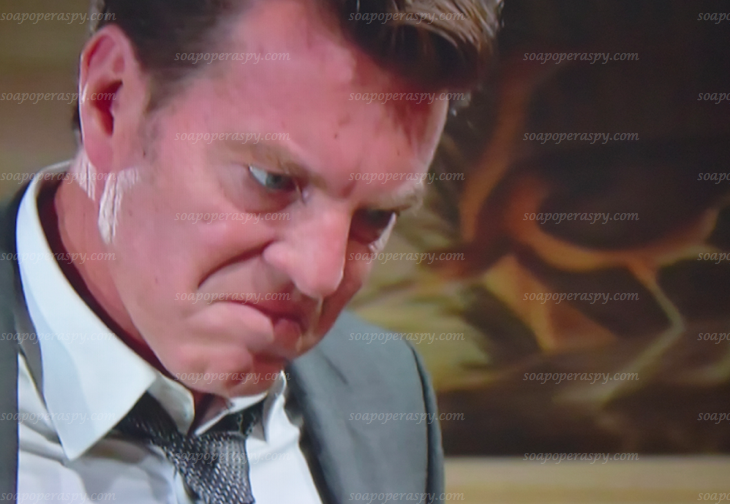 "The Young and the Restless" spoilers for Thursday August 20, 2015 reveals that Jack is trying to find out just how involved Victor was in bringing to Marco to Genoa City.  Jack decides to masquerade as Marco to get information from Victor but Victor is not fooled.  Meanwhile, Marco is still all tied up and trying to convince Marisa she is a loose end and she should untie him.
The Thursday August 20, 2015 episode of "Y&R" opens where we left off yesterday with Jack (Peter Bergman)coming into the room and telling Marisa (Sofia Pernas) it was just what he wanted. Marco (Peter Bergman)is freaking and Jack(Peter Bergman) is bragging about how Marco is all his now. Marco tells him, "To bad it is for nothing getting Marisa to woo me into submission all for nothing. You think you are going to teach me a lesson don't you? You think I harmed you, you got the wrong bad guy. I did not keep you on the island; I did not kill those kids. The only thing I am guilty of is looking a hell of a lot like you."  Jack tells him he is guilty of more than that and Jack is going to remind him. Jack growls, "Sleeping with my wife!"
Noah (Robert Adamson)and Mariah (Camryn Grimes) come into Crimson Lights Noah is upset because Marisa is ignoring his texts and messages and she never showed at the supplier. Noah tells them when Marisa kissed him it was like she was saying goodbye. Summer (Hunter KIng)runs in and says, "I remember Detective Harding(Chris McKenna) was at the cabin the night Austin(Matthew Atkinson) was killed."
Harding tells Dylan (Steve Burton) that they are wasting their time – Dylan tells him think of it as a training episode. Victor(Eric Braeden) walks in and Dylan tells him they have a few more questions. Victor tells them he has a few questions for them.
Related: 'The Young and the Restless' Fashion: Get Lily Winters' Striped Dress For Less – Christel Khalil Style!
Devon(Bryton James) is waking up from his sleep and there is a knock on the door it is the concierge with aspirin and water. The concierge tells her that Hilary (Mishael Morgan) went on the guided tour and Devon thinks of going to find her but he is still feeling sick.
Meanwhile, Neil (Kristoff St.John) is speaking to Hilary and Hilary wants to know what he is doing there. Hilary is on the ledge of a cliff and Neil warns her to be careful because it is a long way down. Hilary demands Neil tell him why he is there. Neil tells Hilary there is something she needs to see. Neil says, "I am sorry it is going to be painful. I am the messenger and you need to know the truth about the man you married. You really don't know Devon. There is a stranger in your house and you don't know him. He has been unfaithful. He cheated on you and he lied to you ever since the bachelor party." Hilary looks shocked.
Summer is upset she tells them she finally remembered. Summer explains, she was lying on the ground and she heard something and there was a man standing there and he pulled out his phone and then he saw her. It was Harding and he ran out of the room and then she saw the bookend it was full of blood. Noah says, "We got him now!" Noah is going after Harding and Mariah and Kevin (Kevin Rikaart) stop him.
Related: 'The Young and the Restless' (Y&R) Spoilers Wed. August 19: Marisa Traps Marco-He and Jack Faceoff, Cane Forgives Lily, Neil Follows Hilary
Victor asks Harding and Dylan how close they are to finding Marco. Harding tells him, "We are working a few leads but Marco has covered his tracks." Dylan says, "We can assume Marco is the gunmen we only have Jack's story to connect us to the gun lord." Victor asks him what story he is talking about and they explain Jack and Phyllis(Gina Tognoni) gave a statement to Paul (Doug Davidson) earlier in the day.  Victor wants to know what they said Harding starts to tell him and Dylan shuts him down and reminds him he is not suppose to blab police information. Victor tells Harding to continue and Harding ignores Dylan and fills Victor in. Victor tells him that he and Jack are no longer partners. Harding says goodbye, Dylan stops and says, "You seem anxious for us to find Marco, it is because you are doing business with him too?"
Back with Jack and Marco at the cabin – Marco is trying to make Jack mad and talks about how he slept with Phyllis. He tells Jack how Phyllis was delectable and she would select him day after day and sometimes daily. He fooled sexy Ashley (Eileen Davidson), Kyle(Lachlan Buchanan) and his hot niece Abby (Mekissa Ordway). Marco pushes Jack and keeps taunting him. Finally Jack goes picks up a bottle smashes it and has the sharp top and goes to Marco's bed where he is tied. Marco screams, "Go ahead do it."
Marco tells Jack to finish what he came to do. Jack drops the bottle and Marco asks if he thinks he is better than him. Jack tells him he is not stooping to his level. Marco tells him to untie him and let them deal with it like real men.
Victor tells Dylan it was by the grace of God not Jack or Phyllis or his family got hurt. Harding got shot and made the sacrifice. Victor thanks Harding and tells him they should tell people to shoot to kill. Victor asks to speak to Dylan alone. Harding leaves. Dylan asks Victor if Nikki is okay and Victor says, "That depends on your digression."
Noah is going after Harding and the Scooby Doo gang are arguing with him. Mariah tells Noah they have to keep their emotions in check and go to the police. Noah is upset he thinks Harding is going to kill again. Noah feels Harding is covering for Marco. Kevin wants to tell Paul first but he tells Noah he will find Dylan and bring him back to help them.
Devon calls Hilary and leaves a message for her that he feels better and he is on his way.
Hilary is with Neil and he tells her he has proof Devon is a cheater. He takes his phone shows her the phone she takes the phone and says she is not looking at his proof and throws it.
Hilary tells Neil her guide should be back soon and he should leave. Neil tells her to stay while he is looking for his expensive phone and he knows she is not going to forget what he wanted to show her. Neil tells her it is going to cause doubt until it corrupts her life and he thinks she is coming to him and begging to see what is on the tape. Hilary takes the phone looks at the video and tells him she knows he staged it. Neil denies it she gives him back the phone and walks away.
Victor asks Dylan if he really thinks that he would lure Jack and Phyllis to his office to be shot? Victor tells Dylan he would not do it. Dylan tells him he would like to believe it and tells him to give Nikki his love. Dylan leaves.
When Dylan leaves the office Kevin grabs him and tells him they have news they know Harding was responsible for Courtney (Kelli Gross) and Austin's murder and Noah wants to go after Harding. Dylan tells him they need more proof before they can do anything.

Jack asks Marco why he took over his life. Marco tells him, "MONEY, I like MONEY!" Marisa says, "There must have been lots of it Marco is greedy." Jack asks him if it was Victor's money. Jack asks Marco if he is afraid to tell him." Marisa mocks him about being afraid of a white collar bully. Marco laughs and says, "Afraid of him, don't make me laugh but I am unable to tell you what you want to hear. Victor Newman is a smart man once I took over your place he caught on to me and he wanted a piece of the action. I figured 50% of something is better than 100% of nothing. We made a deal and all was well everyone was happy. There was a couple of glitches in the bedroom but you know Phyllis can be a handful in the bedroom." Jack slaps him.
Devon is on the trail and he finds the guide and the guide tells him their guide said they cancelled and maybe Hilary went up alone. They do not advise it because it can be treacherous.
Devon asks if they can start climbing. The guide tells him they should wait and Devon should head down because the cell service is better. Devon is freaking. The guide tells him not to worry they will find Hilary.
Summer is upset she did not remember sooner about Harding, she apologizes to everyone. Mariah tells them knowing and proving are two different things. Noah gets upset he is going after Harding. He leaves.
Victor calls Paul and tells him there was a shooting in his office and Harding was shot. Victor tells Paul he should have called his lawyer because they subjected him to questioning. Victor accuses Paul of nepotism putting a Barista on the force. Victor tells him to send your boy back to making Cappuccinos.
Marco tells Jack by slapping him he proved he is not better than him. Take away the Harvard education and they are the same guy. Jack tells him if he were like him he would be a dead man. Jack tells Marisa to take care of Marco he is leaving to end it. Jack leaves.
Marco says to Marisa, "Okay it is just the two of us, come on untie me."
Devon gets back to the room and looks for Hilary but she is not there. He calls and leaves her a message. He tells her to call her ASAP.
Marco tells Marisa to untie him Jack is going to finish things and that will make her an accessory. Marco reminds her he saved her from a life of poverty. Marco tells her, "You let them kill me and you will be next you will never see your precious Newman boy again."
Noah comes into the GCPD and he hears Harding talking saying, "Where are you the boat is leaking and I am plugging up the holes. If you think you can leave me to clean up your mess, think again!"
Jack comes to Victor's office and Jack asks what he is doing there. Jack pretends to be Marco. Victor asks what he wants and Jack (pretending to be Marco) says, "I want what is mine. I want what you owe me. You think you were off the hook and I was not coming back. Shame we wasted that bullet on the cop it should have been for Abbott or Phyllis. I guess both of them have to go. Right pal?" Victor looks at him and says, "NICE TRY JACK!"
Victor pours a drink and tells Jack, "Marco came to town on his own, he did not need my help. I might be a victim too." Jack laughs. Victor tells him to think he might have been the one with a bullet if he came to the office. Victor asks where Marco is and Jack tells him, "I know exactly where Marco is and you are going to help him pay the ultimate price." Victor lifts his glass.
Marco asks Marisa why would Jack keep her around she is expendable and a witness. Marisa tells him Jack is not like that. Marco goes on how the people are just like him and Jack has something dark planned for him and Jack is going to pin it on her. Marco asks how Victor likes her sleeping with his grandson.
Dylan asks Summer if she really saw Harding the night of Austin's death. Mariah is trying to interrupt and tell them Noah is gone. Finally Kevin realizes Noah is gone.
Noah goes into Harding's office and Harding asks him what he wants he has no time for spoiled rich kids. Noah tells him, "It is over, and I know what you did. Soon everyone else will know too. You killed Austin and you killed Courtney."
Devon has the concierge helping him she is calling around. Security did a check and Hilary is not on the property. The police show up and say, "Mr. Hamilton, I have news about your wife."
That is it "The Young and the Restless" fans!  Make sure to check out the two videos below.  The first one is Jack slapping Marco and the second one is Neil showing Hilary the Bachelor Party video.
Share your thoughts in the Comments section below, on our Facebook Page, or join our Facebook Group for Discussion.
This article is the exclusive intellectual property of Soapoperaspy.com and any use by other media outlets must be explicitly credited and linked.