'The Young and the Restless' Spoilers June 24: Gabriel Proves Flack is Not Jack, Lily Confesses to Avery, Marco Steals Kyle's DNA
"The Young and the Restless" spoilers for June 24, 2015 reveal that although Flack thinks everything is alright with Phyllis, she is growing more suspicious daily and steals Flack's wallet to find information.  Billy and Kyle demand Flack make Gabriel take a DNA test and Flack agrees.  Lily accuses Joe of following her to her room and coming on to her. Meanwhile Gabriel realizes Flack is not Jack.
Wednesday June 24, 2015 episode of Y&R opens with Lily [Cristal Khalil] is all alone her room after she did the deed with Joe [Scott Elrod]. Lily's phone rings and it is Cane, she ignores it.
Avery [Jessica Collins] calls the GCPD and makes a complaint against Joe. Paul [Doug Davidson] comes to her apartment in the meantime Joe goes back to see Lily.
Kyle [Lachlan Buchanan] is talking to Billy [Burgess Jenkins] and he says Summer [Hunter King] squealed on him and told that he took a trip to the Caribbean.
Phyllis [Gina Tognoni] and Flack [Peter Bergman] are speaking and she tells Flack that she accused Victor [ Eric Braeden] of trying to kill him. Flack tells Phyllis, "Stay out of this! I don't want Victor knowing my business."
Gabriel [Justin Hartley], Billy and Kyle are meeting and they are giving him a hard time they don't want Gabriel to be their half-brother.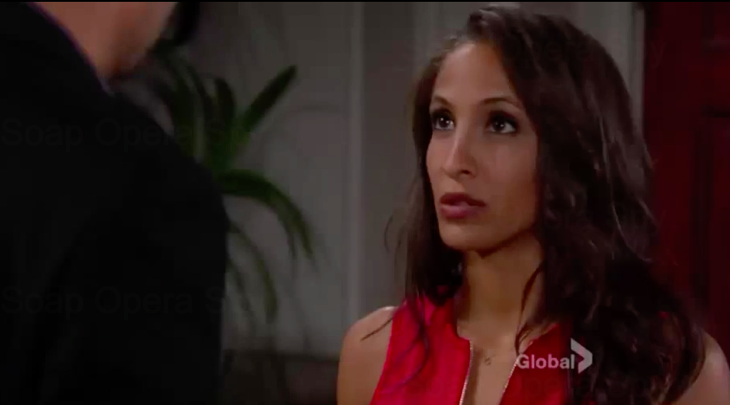 Lily and Joe are talking and he says he thinks they should talk about what just happened. Lily says, "I don't want to tell anyone how you followed me up to my room and came on to me." Lily then tells him not to say anything to Cane [Daniel Goddard] . She tells him they have to forget what they did, it never happened. She asks Joe, "Do I have your word, you won't say anything?" Joe agrees!
Paul is at Avery's house and tells her there is nothing he can do because there is no proof and he asks her what she wants him to do and Avery says, "It is going to be too late once you get the proof he is going to have already hurt me."
Lily shows up at Avery's place she wants to speak to her. Paul asks if Lily saw Joe at The Athletic Club and Lily tells him she did but says she cannot tell him the exact time. Paul leaves.
Related: 'The Young And The Restless' Star Eileen Davidson's Father-In-Law Dick Van Patten Passes Away At 86
Lily tells Avery she has to talk to her – she tells Avery she lied about Joe. She says, "I slept with Joe." Avery asks if Joe forced her and Lily says, "No it was consensual." She asks Avery not to tell anyone and she tells Avery she is not going to tells anyone either. Avery agrees to keep silent.
At The Athletic Club Lauren [ Tracy E. Bregman] tells Cane that he should go to see Lily and make everything right. Lauren says, "Just because Michael [ Christian LeBlanc] and I are divorced you and Lily don't have to." Cane is surprised. Lauren continues to try and encourage Cane to go and makeup with Lily. Joe walks down the stairs and Cane asks Joe to have a drink with him. Cane tells Joe he is waiting for Lily because he wants to make things right with her.
Related: 'The Young and the Restless' Spoilers June 23: Dylan Thrilled Sharon's Pregnant – Lily Sleeps With Joe – Phyllis Accuses Victor of Tampering With Jack's Mind
Flack and Phyllis are talking and is insisting that she thinks Victor is trying to kill Flack and she cannot understand why Flack wants her to stay out of things. Phyllis says to Flack, "There is a lot you didn't tell me." Flack replies, "I thought we worked everything out and everything was fine." Phyllis walks into his arms and they kiss and makeup while Phyllis is hugging him she steals his wallet.
Flack shows up at The Athletic Club and sits with Billy and Kyle. Kyle and Billy tells Flack they want Gabriel to have a DNA test because they don't believe he is Flack's son. Flack says, "I agree, I want him to have a DNA test too!"
Gabriel and Phyllis are talking and she tells him that Flack has a list of so many things he has not told me, he has changed so much. Gabriel starts questioning her about the ways Flack has changed. Phyllis starts telling him the ways Flack has changed. Gabriel looks stunned and then says, "You are right he has changed" and Phyllis replies, "Why would you say that you did not know Flack before." Phyllis leaves and goes to see Billy.
Billy and Kyle tells Phyllis that just because the women Flack slept with had a baby that does not mean it is Flack's child. Phyllis asks what they mean. She says, "Flack is not acting like and Abbott he is acting cold."
Gabriel goes to see Flack and they are talking. Gabriel says, "They don't believe I am your son Flack and if they swab my mouth and do the DNA test they are going to find out I am not." Flack says, "Don't worry I took care of it." Flack tells Gabriel, "When I was at the table with Kyle and Billy when the two left I took Kyle's glass for the DNA so I took care of it."
Meanwhile, Phyllis searched Flack's wallet and found nothing.
Paul goes to Joe's room at The Athletic Club and Joe wants to know why he is there. Paul asks him, "Where were you this evening? Do you have anyone that can vouch for you except Lily? I am going to be keeping an eye on you."
Lily gets back to The Athletic Club and sees Cane and Cane tells her he loves her and he would like to try again. Lily says, "I would too!"
Flack and Gabriel are still talking and then Gabriel says, "Do you remember the meal Phyllis made us a long time ago it was so good, do you remember the name of it?" Flack says, "Oh ya, I don't remember the name but it was so good, I would never forget it!" Gabriel looks at him and says, "PHYLLIS NEVER EVER MADE US A MEAL. WHO THE HELL ARE YOU??"
That is it "The Young and the Restless" fans!  It appears everything is unraveling for Flack.  What is Gabriel going to do now that he knows Flack is not Jack?  Will Flack be able to come up with a story Gabriel will believe?  Will  Joe reveal to Cane that he and Lily slept together
Share your thoughts in the Comments section below, on our Facebook Page, or join our Facebook Group for Discussion.
This article is the exclusive intellectual property of Soapoperaspy.com and any use by other media outlets must be explicitly credited and linked.