General Hospital Fashion: Get Sabrina Santiago's Flare Dress For Less – Teresa Castillo's Style!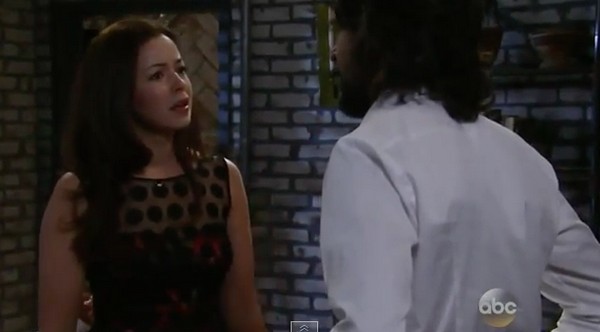 Today on General Hospital when Sabrina got back from the doomed party at the Haunted Star, Carlos was at her apartment. He managed to convince her to help Johnny Zacharra, who was shot by Julian Jerome.
During that scene, she wore a Betsey Johnson Dot-Overlay Fit-and-Flare Floral Dress. Thanks to fashion savvy Soap Opera Spies, you can score General Hospital fashion and get Sabrina Santiago's flare dress for less and have Teresa Castillo's style.
The dress is features a dotted mesh overlay. The bold floral print lining provides a pop of color that draws the eye. The sweetheart bodice and sleeveless silhouette compliment the V-back for a dash of sexiness. You can nab the dress at Dillards on sale for $82.80. Regular price is $138, so hurry!
If you are on an even tighter budget, Forever 21 has a similar version that focuses on the color and has cap sleeves, pleated waist, mesh-trimmed back, and an invisible zipper. It's feminine and flirty, but can translate from the office to dinner with your gal pals.