'Days of Our Lives' (DOOL) Spoilers: Weekly Preview Video November 9-13 – Ben Holds Abigail Hostage, Andre Kidnaps Sami, Who Lives and Who Dies?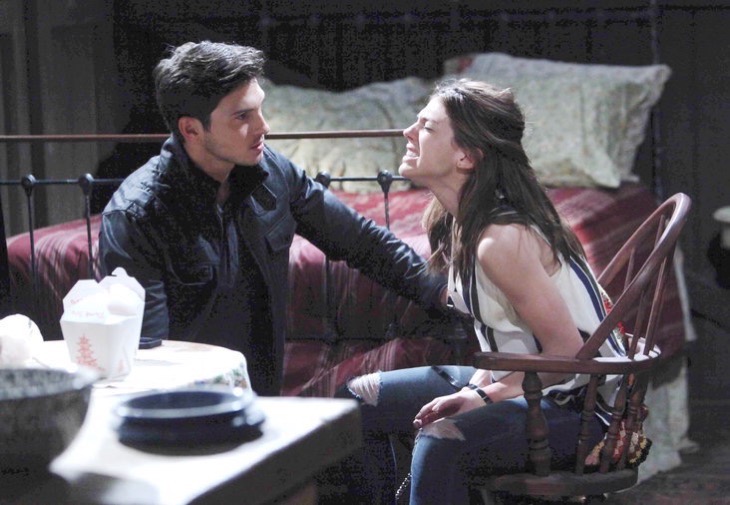 "Days of Our Lives" (DOOL) spoilers for November 9-13 tease that this week will be filled with some of the most scandalous and O-M-G moments in the daytime drama's 50 year history. Both Hope (Kristian Alfonso) and Abigail (Kate Mansi) are caught in life-or-death situations. And Andre DiMera (Thaao Penghlis) kidnaps Sami Brady (Alison Sweeney). It's going to be another big week for "DOOL" fans – the preview promises that "Days" is bring the drama for the 50th anniversary celebration.
Abigail denies being in love with Chad (Billy Flynn) but Ben (Robert Scott Wilson) Ben knows Abigail is lying and confronts her – he knows she had sex with Chad. What will happen next? Seduction hasn't seemed to work. Is Abigail's life in danger? What does Ben have planned for Abigail? But she's not the only hostage this week. Andre is back in town and shows up with a few thugs to kidnap Sami Brady.
But Hope is in the scariest situation of all – though she believes that Aiden (Daniel Cosgrove) is the man of her dreams. As Hope is preparing for a romantic night with her new husband Aiden sneaks up behind his new bride and strangles her with a red necktie. As Hope drops to the floor Bo (Peter Reckell) rushes in. In the dark Bo and Aiden struggle with a gun – and a shot rings out. Both Bo and Hope lay motionless on the floor – Aiden is nowhere to be found.
Is it over for Bo and Hope? Has their love story come to a tragic and deadly end? What will happen next for Abigail? And what in the world do the DiMeras have planned for Sami? Let us know what you think in the comments below and don't forget to check Soap Opera Spy often for the latest "Days of Our Lives" spoilers, rumors, updates and news.
Share your thoughts in the Comments section below, on our Facebook Page, or join our Facebook Group for Discussion.