Young And The Restless Spoilers: Courtney Hope Reveals Interesting "Sign" From OG Sally Spectra
Young and the Restless (Y&R) spoilers suggest Sally Spectra may finally be ready to start a new chapter in her story. The character has been through a lot as of late, and losing her baby has caused a lot of heartbreak.
The actress who portrays Ms. Spectra, Courtney Hope, recently took the time to chat with Soap Opera Digest (SOD), talking about the redhead's exit from L.A. and entrance into Genoa City, plus, an interesting "sign" she was given.
The Young And The Restless Spoilers  – Sally Spectra's First Big Scene With Lauren Fenmore
Sally crossed over from the Bold and the Beautiful (B&B) to the Y&R in 2020, and Ms. Hope was likely a little nervous about the "jump"; however, she received what she calls a "sign" that one castmate would end up being a stellar "scene partner".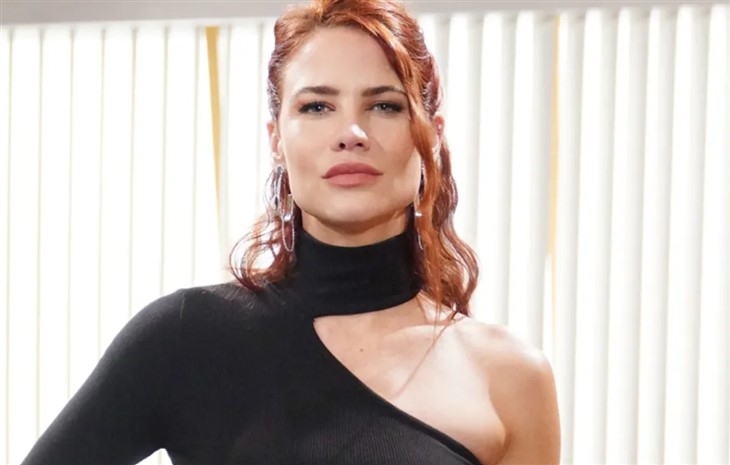 During her first filming with Lauren Fenmore (Tracey E. Bregman), Courtney tells SOD that she was "somehow" the reason Tracey's earring came off and "flew" at her during the scene.
Ms. Hope notes that Bregman believed it was a big deal because the very same thing happened to her while filming with Darlene Conley (B&B's original Sally Spectra, and the redhead's namesake).
Courtney goes on to say that Tracey "knew" at that moment the two would have great scenes together. She wasn't wrong.
Y&R Spoilers – Sally Spectra's History
Hope debuted on the B&B in 2017, playing OG Sally's first grand-niece, and current Sally was written to mirror Darlene Conley's iconic character.
While current Sally has evolved considerably over the past five years, she remains a true testament to her Great-Aunt's legacy of being a strong female with an eye for business and the fashion world.
What will Sally be up to next? Looks like she has plenty of opportunities that lay ahead, but first, she needs to focus on herself to ensure she's emotionally healed.
Still, much like her predecessor, Ms. Spectra is a survivor and fighter, so whatever is on the horizon, she'll tackle it like a champ!
Are you glad Sally is in GC or would you like to see her return to L.A.? Leave your thoughts below.
Watch the popular CBS soap daily to see what happens next and visit this site regularly for the best Young and the Restless updates, spoilers, and news.