GH Spoilers: Spencer's Anger Builds, Would He Cross The Line To Save Ace From Esmé?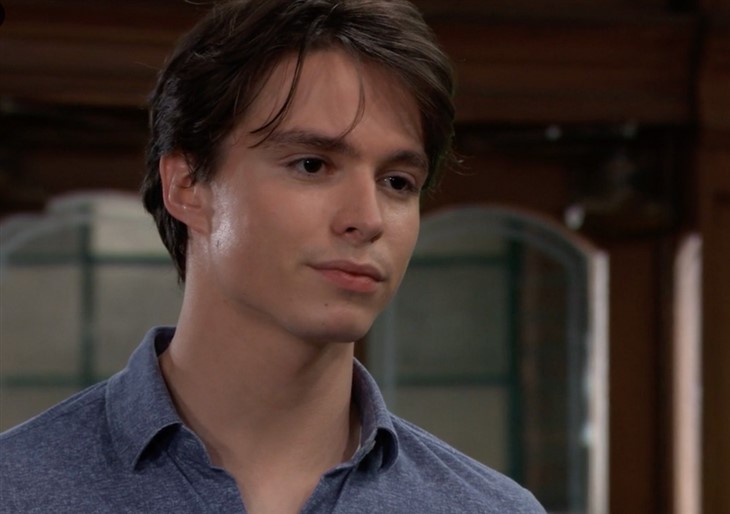 General Hospital (GH) spoilers and updates tease that Spencer Cassadine's (Nicholas Alexander Chavez) anger builds the harder he fights against Esmé Prince (Avery Kristen Pohl) for his baby brother. Would he cross the line to save Ace Prince-Cassadine (Joey and Jay Clay) from Esmé and growing up in Spring Ridge?
General Hospital Spoilers – A Toddler In Prison?
Spencer is very worried about what could happen to Ace in prison with Esmé-for one thing, he wants a different name for the baby, one befitting a Cassadine. Esmé is now so anti-Cassadine she will not consider it and will probably have his birth certificate changed to only say Prince; and what happens when he's eighteen months old? She can only have him with her for that long, and whoever heard of a toddler in prison-will he go to the state orphanage or will she lose her rights?
More importantly, will Spencer have any rights, or even Kevin or Laura Collins (Jon Lindstrom, Genie Francis). What if his father returns for the tot, will Nikolas Cassadine (Adam Huss) have any rights or will Spencer have to fight him like he was going to do previously?
GH Spoilers – Eighteen Months He'll Be Walking
In eighteen months he'll be walking, or learning to – and he'll start toilet training and drinking out of sippy cups, and saying a few words. It will also be plenty of time for Esmé to turn him against his Cassadine and Collins family, but eighteen months will go by much more quickly than Esmé thinks.
Spencer has to take action before the baby gets much older-but what can he do when he can't even visit-she doesn't want him or even Grandma anywhere near him. And legally, he's told he has no standing – even Grandma Laura is met with restraining orders and the like when she's tried to visit and she knows judges. Spencer is beginning to understand the desperation that made his father do what he did when he kept her captive in that tower, even when they knew she wasn't The Hook.
General Hospital Spoilers – Will Spencer Cassadine Cross The Line?
From what he understands from talking to Victor Cassadine (Charles Shaughnessy) his father was going to take Esmé to Cassadine Island. There she'd be taken care of for the rest of her life, but she'd never be able to leave, and she wouldn't have the baby – he would. He tried to get her to sign away her rights the night before she escaped with her parents and he disappeared, and perhaps is on the run.
Spencer considers getting Victor to help him kidnap Ace from Spring Ridge and both of them move to Cassadine Island. The only thing that's keeping him from moving forward on this plan is Trina Robinson (Tabyana Ali); he'd lose Trina for sure.
Be sure to catch up on everything happening with GH right now. Come back here often for General Hospital spoilers, news, and updates.