GH Spoilers: Laura Collins Guilt Trips Spencer, Demands Answers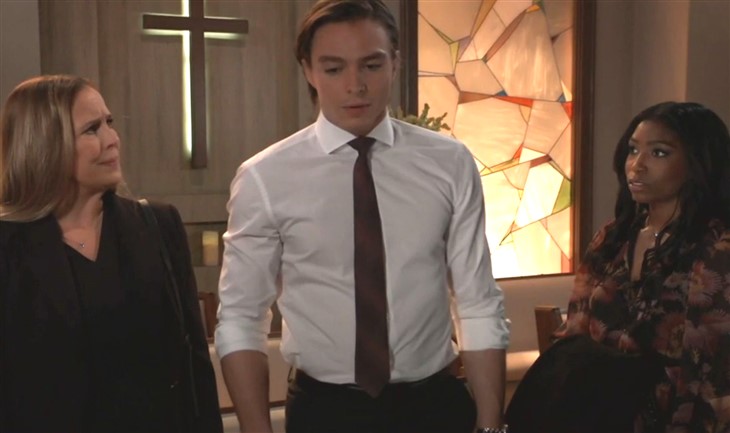 General Hospital (GH) spoilers and updates tease that Laura Collins (Genie Francis) will confront Spencer Cassadine (Nicholas Alexander Chavez) in this week's Sneak Peek. She'll guilt trip him just a bit wanting to know what he's holding over his father.
General Hospital Spoilers – Confrontation In The Chapel
Fresh from a confrontation with Nikolas Cassadine (Adam Huss) in the hospital chapel, Spencer comes down the hallway and asks his grandmother where he went. Laura, obviously having been in tears having just confronted Nikolas, tells Spencer she doesn't know, after trying to reason with her son. Nikolas left with tears in his eyes after his mother told him if he walked out that door he'd be making a huge mistake.
Spencer and Nikolas would have likely come to blows had Laura not been there trying to make peace between them. Laura now looks in Spencer's eyes, and asks Spencer what he has done.
GH Spoilers – Playing Dumb
Spencer tries to play dumb, saying he doesn't know what his grandmother means, and she sees right through him. Laura scoffs and tells him how clever he is, he always has been, since he was just a little boy, and tells him he can't fool her. Laura continues, noting she was there in the chapel when Spencer told Nikolas he was fighting him for custody of Esmé Prince's (Avery Kristen Pohl) baby-Nikolas' baby.
Laura continues the grandmother guilt trip method as she tells him she doesn't know what kind of twisted Cassadine game he's playing with his father. She doesn't know how Ava Jerome (Maura West) fits into it either – but that it will be destructive to all three of them and he should let her help.
General Hospital Spoilers – Can Anything Be Salvaged?
Laura continues, begging Spencer to let her help before his relationship with his father can never be salvaged, and again asks him what he's holding over his father's head. Spencer had memorized Nikolas' confession to killing Esmé with his own two hands by throwing her off the parapet, although of course she didn't die. He quoted back Nikolas' own words to him so he would understand that he had the confession he'd made to Ava before Esmé resurfaced, to protect Ava from being charged.
Spencer had threatened to turn the recording into the police but made a point of telling him he wouldn't if he signed away his rights to the baby. Laura had been horrified and told him he wasn't ready to be a parent to his baby sibling, and had tried in vain to make peace between them.
Be sure to catch up on everything happening with GH right now. Come back here often for General Hospital spoilers, news, and updates.