Days Of Our Lives Spoilers: Stefan Ends Things With Chloe!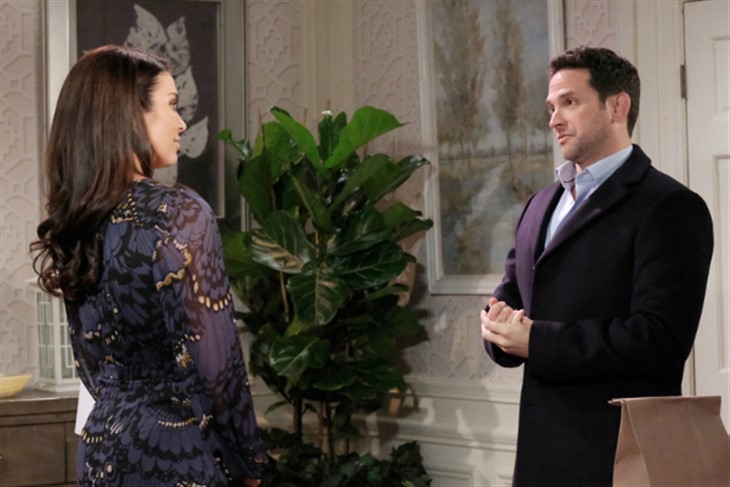 Days of Our Lives spoilers tease that Stefan DiMera (Brandon Barash) was determined that even though he was brainwashed and had his feelings for Chloe Lane (Nadia Bjorlin) amplified, he was resistant to any sort of deprogramming. That didn't sit well with Stefan's true love, Gabi Hernandez (Camilla Banus).
Gabi decided to take matters into her own hands. She contacted Dr. Wilhelm Rolf (Richard Wharton) and he agreed to the deprogramming. Gabi knocked Stefan out, and they waited for Rolf to arrive.
Days of Our Lives Spoilers – Will Gabi Hernandez's plan work?
While the equipment and atmosphere were beneath Rolf's usual standards, he proceeded with undoing the brainwashing. But the equipment shorted out, and it was unclear momentarily if Stefan was even alive. Eventually, Stefan did wake up and he told Gabi he loved her.
But then Chloe found them as well. Days of Our Lives spoilers show Stefan was still in love with her as well! Needless to say, Gabi was not happy with this development. But she needn't worry, eventually, Stefan's real feelings will certainly win out!
DOOL Spoilers – Stefan DiMera will let Chloe Lane off easily!
Although he may initially toy with the idea of being with both women, eventually will realize that his heart belongs to Gabi alone. Chloe herself has unresolved feelings for Brady Black (Eric Martsolf) as well. Look for these two to eventually realize that they are just not meant to be. Chloe may be hurt for a while, but in the end, her heart belongs to Brady. It may take some time, but it should all work out the way that it's meant for everyone involved.
Days of Our Lives Spoilers – Gabi Hernandez may insist Rolf finish the deprogramming!
Gabi won't want to sit and wait for things to work out in her favor. She will likely implore Rolf to finish Stefan's deprogramming. But even if Stefan agreed to such a thing circumstances will likely make that impossible. Spoilers indicate that Rolf will soon be back in prison. So, until things work themselves out, Gabi will be forced to share Stefan with Chloe. But in the end, Gabi will get exactly what she wants and she and Stefan can finally return to their lives as man and wife.
What do you think?
How long will Stefan believe he loves both Gabi and Chloe? Will Chloe return to Brady? And will Dr. Rolf finally go to jail for everything that he has done in Stefano's name? Anything can happen in Salem so stay tuned to Days of Our Lives streaming every weekday on Peacock. And don't forget to check back right here regularly for all your Days of Our Lives news, information, and spoilers!