Days Of Our Lives Spoilers: Rage Overtakes Justice As Steve, Roman And John Plot Revenge?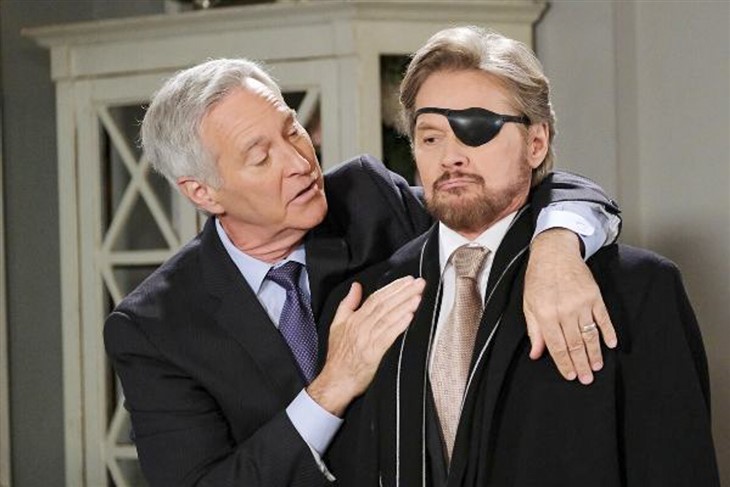 Days of Our Lives spoilers and updates tease rage will overtake justice as revenge is plotted. Steve Johnson, (Stephen Nichols) Roman Brady (Josh Taylor) and John Black (Drake Hogestyn) will plot revenge against Orpheus (George DelHoyo) for their wives' deaths.
Days Of Our Lives Spoilers – It's Enough
At first, John and Roman try to talk some sense into Steve and talk him down from wanting to stage an assassination attempt on Orpheus. But the more they think about it, the more it makes sense-especially to Roman, who's dealing with trying to keep him away from Lucas Horton (Bryan Datillo) in Statesville Prison. Orpheus has been trying to ply Lucas with liquor that they can't be sure is poison laced or with the same toxin he used on their wives.
Orpheus bragged he used it all, and Dr. Wilhelm Rolf (Richard Wharton) had seemed to confirm it. Orpheus had broken into Rolf's "secret" lab in Salem, which is one reason, although not the only one, he was moved to Jakarta.
DOOL Spoilers – Who's Getting Liquor Into The Prison?
A fair question is who's getting liquor into the prison in the first place – that's not something that's supposed to be allowed. Roman, John and Steve puzzle among themselves who's in someone's pocket and who's the someone whose pocket they're in, someone or more than one has to be on the take. There has always been a prison hierarchy but this is something different – and it could be anyone from a guard or several guards all the way up to the warden.
But if liquor can be smuggled into the prison then they have a way to take down Orpheus, with him never knowing what hit him. Roman will enlist Lucas to help carry out the plan, since Orpheus is constantly trying to push him off the wagon.
Days Of Our Lives Spoilers – What Goes Around, Comes Around
What goes around, comes around, and Roman, John, Steve and Lucas coordinate their plan. First is to get some poisoned liquor smuggled in and make sure only Orpheus drinks it. That is Lucas' part of the plan, and he knows just what to do – he'll pretend to have weakened enough to fall off the wagon. With the poisoned liquor for Orpheus, a bottle for Lucas will also arrive but it won't have liquor in it, just something that looks and smells like it.
It's tricky-and could easily backfire but Lucas knows to protect himself, not to drink anything Orpheus offers first. Lucas has to make the first move and Orpheus has to take the first drink-and make a run for it before Orpheus realizes he's been had.
Be sure to catch up on everything happening with DOOL right now. Come back here often for Days of Our Lives spoilers, news, and updates.