B&B Spoilers: What's Ahead In Fiery February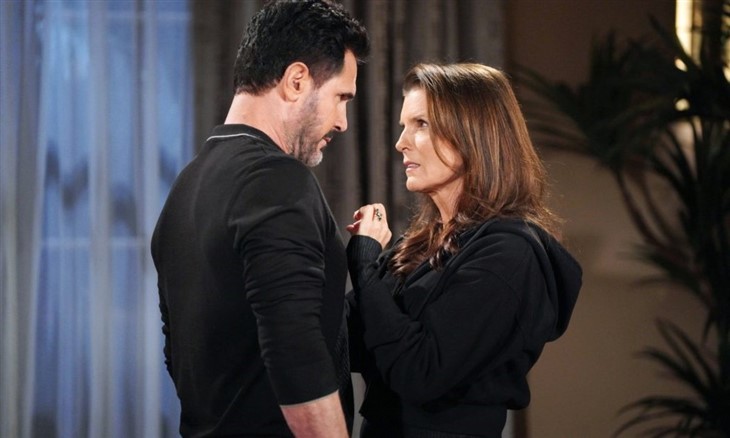 The Bold and The Beautiful (B&B) spoilers and updates tease a fiery February for viewers! Betrayal will be avenged, passions will burn, and new alliances will be formed.
The Bold And The Beautiful Spoilers – Bill Spencer And Sheila Carter
Here's what's ahead in February for Bill Spencer (Don Diamont) and Sheila Carter (Kimberlin Brown). Bill has burned bridges with all his family and close friends, who needless to say, are extremely worried about him. Sheila seems to be happy and Bill is faithfully protecting her at all costs.
Sheila's grateful for all Bill's love and support, but not truly happy-she wants more. Even though she has her freedom, she's keeping a huge secret from her lover/protector.
B & B Spoilers – What's Ahead For The Finnegan Family
Here's what's coming up in John "Finn" Finnegan (Tanner Novlan) and Steffy Forrester Finnegan's (Jacqueline Macinnes Wood) near future. They remain resolved to put Sheila behind bars in spite of the blackmail she and Bill are holding over their family. This couple has more than been put through the fire in the last few months, and it's not over yet – they'll have serious decisions to make in February. Their decisions will affect not only them, but the lives of their children and others whom they love.
The Bold And The Beautiful Spoilers – Thomas Forrester's Quests
Even after being fired from Forrester Creations and becoming persona non grata to even his family, Thomas Forrester (Matthew Atkinson) won't give up. Thomas sees an opportunity for rehire when Hope For The Future's critics give scathing reviews. He feels he and his designs are their only salvation and he pushes that agenda. But that's not Thomas' only quest – he wants to father his son again.
Thomas takes Liam and Hope Logan Spencer (Annika Noelle) to court and fights for full custody of his son. This will have a far reaching impact on Douglas Forrester (Henry Joseph Samiri) and the Logans, Spencers, and Forresters.
B & B Spoilers – 'Braylor's' Bond
Brooke Logan (Katherine Kelly Lang) and Taylor Hayes (Krista Allen) will grow closer as they continue to support each other. They become involved and come together for the ultimate good of Douglas, realizing in the past they would have gone to war with each other. Their bond will become even tighter as they support and encourage each other. Brooke will make Taylor an offer worth her consideration and Taylor will set Brooke up with a new man for a date.
The Bold And The Beautiful Spoilers – Deacon Sharpe's New Start
Deacon Sharpe (Sean Kanan) has a new start and a change of luck and things continue to look up for him. He's taken over Il Giardino and gone from janitor to owner in one fell swoop, and is busy perfecting his pizza recipe to rave reviews. But he's having problems hiding his true feelings for Sheila, and realizes his new life could be a deck of cards.
If anyone realized his feelings for Sheila or that he harbored her for all those months she played dead, his deck of cards could collapse. Deacon has to be very careful not to let slip his feelings for Sheila.
B & B Spoilers – Romance For Katie Logan And Carter Walton
Even in the midst of the turmoil caused by Bill and Sheila's collaboration, Katie Logan (Heather Tom) and Carter Walton's (Lawrence Saint Victor) relationship flourishes. Their deep and abiding friendship soon evolves into a hot romance, the type that could grow into true love and a long lasting bond. With Carter's continued support and protection, Katie herself blossoms. With her reciprocation, Carter continues to become the man he's always known he could be.
Be sure to catch up on everything happening with B & B right now. Come back here often for The Bold and The Beautiful spoilers, news, and updates.