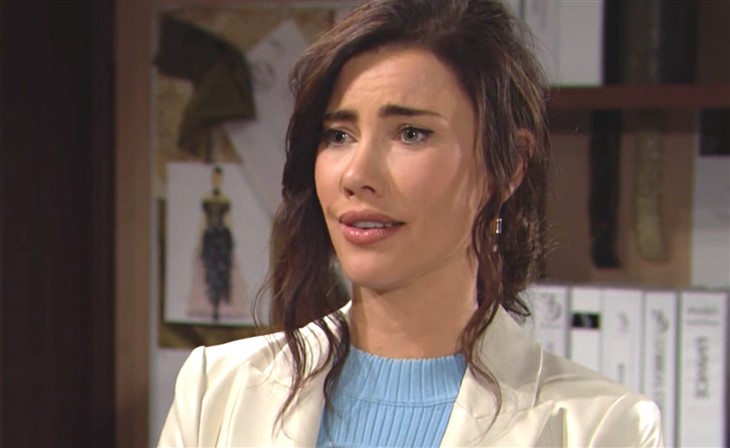 The Bold And The Beautiful spoilers suggest that Steffy Forrester (Jacqueline MacInnes Wood) will go out of her way to make sure to keep Hope for the Future going. Steffy also wants to make sure that Thomas Forrester (Matthew Atkinson) remains the designer. Thomas just needs a new woman to drive Hope Spencer (Annika Noelle) out of his mind.
The Bold And The Beautiful Spoilers – Steffy Forrester Is Concerned About Thomas Forrester
The Bold and The Beautiful spoilers reveal that Steffy is very happy with the work that Thomas and Hope are doing at Hope for the Future.
However, there is the concern that Thomas could become obsessed with Hope once again and ruin the whole arrangement. Hope has warned Thomas she would fire him if he becomes obsessed with her again.
Steffy hopes that by getting Thomas interested in another woman that won't happen. The Forrester Creation's model, Petra (Alexis Gaube) seems to be very interested in Thomas and has asked him to go for drinks several times.
However, Thomas seems to be concentrating on his work instead. However, Steffy decides to give them a little push and see what happens.
B&B Spoilers – Thomas Forrester Is Working On Himself
Thomas keeps making excuses not to go out with Petra but Steffy could decide to interfere. After all, what are sisters for? Thomas is a very attractive man and even Hope has admitted that. Paris Buckingham (Diamond White) has expressed that as well. Right now, Thomas seems to be interested in other things.
Thomas wants to make things up to Hope. After all, if Thomas hadn't let his obsession take over, Hope's line would not be in danger of being canceled. Thomas needs to make this right and he needs to work on himself. Thomas wants to be the best father, brother, and son that he can be. Will Thomas get his life back on track?
The Bold And The Beautiful Spoilers – Steffy Forrester Gives Thomas Forrester A Push
Steffy is convinced that Thomas and Petra would have a good time if they went out together. However, someone has to get him there first. Suppose Steffy sets up a meeting at Il Giardino or some other romantic setting to discuss his work. Steffy could easily invite Petra to do that same and let the chips fall where they may.
Would Thomas stay and enjoy their date or rush off because he isn't ready to take this step just yet? Will Thomas at least give Petra a chance to steal his heart and move on from Hope? Could Petra be the person who can help Thomas move on from Hope and make a new life for himself? Is Thomas ready to give someone else a chance?
Be sure to catch up on everything happening with B&B right now. Come back here often for The Bold And The Beautiful spoilers, news, and updates.