B&B Spoilers: Hope Pushing Liam Backwards On Tightrope – Finn Blocks Triangle Redo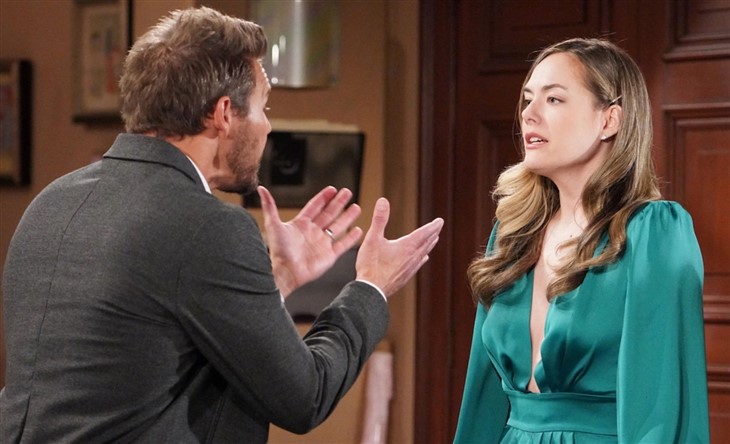 The Bold and the Beautiful (B&B) spoilers document that Hope Spencer (Annika Noelle) is covering her true feelings from the main characters involved in this twist storyline. But she can not lie to herself forever.
Devoted fans recall that Hope and Steffy Forrester Finnegan (Jacqueline MacInnes Wood) battled for Liam Spencer's (Scott Clifton) heart for years. They went back and forth, each had his child, and eventually, Steffy told Liam to go back to Hope. He did and has remained with her.
Steffy continues to hold the ability to talk straight to Liam and have him respond. Viewers saw the pattern repeat when Wood's character told Liam he was looking at the scenario wrongly.
The Bold And The Beautiful Spoilers – Thomas Forrester Is Not The Problem
Thomas Forrester's (Matthew Atkinson) return from New York was sparked by Caroline Spencer's (Linsey Godfrey) death. That led him to decide to do what was best for Douglas Forrester (Henry Joseph Samiri). Returning to the family home in Los Angeles, California, helped Douglas to heal.
The decision to return to the family home was also an admission. Thomas eventually admitted that he did not know how to be a parent and needed help.
His choice to have Hope help him raise Thomas, having her become Douglas' second mother, was heartfelt. But it was also manipulative. Liam bases Thomas' manipulation of Hope at that origin point.
B&B Spoilers – Liam Spencer Sees The Light
Liam's mindset was built over the years. Not only did Thomas use his son to create an opening with Hope. Atkinson's character intended that bond to serve as a bridge he could use to access Hope's heart.
Thomas repeatedly demeaned and undermined Liam and his marriage to Hope. Any husband would be outraged and fight back, as Liam literally had to do in the memorable helipad scene.
Steffy's reveal to Liam is a game-changer. Clifton's character was likely not going to connect his feelings about a bad vibe surrounding Thomas and Hope to his wife without Steffy's decision to share her feelings about the matter.
The Bold And The Beautiful Spoilers – John Finn Finnegan Is The Difference
If TPTP did not create a difference-maker in John Finn Finnegan (Tanner Novlan), Steffy would be vulnerable to reconnecting with Liam and reigniting the triangle they once were part of.
But Finn does exist, and his marriage to Steffy is solid. Finn's recent glee about Liam's uncertainty about Thomas and interest in Steffy's tell to him about Hope's conflicted feelings fits the current plot.
Liam recently told Wyatt Spencer (Darin Brooks) that Steffy no longer backs his views about Thomas. But Steffy is still supporting Liam, as her actions demonstrated. But her tie to Finn means an inevitable confrontation with Hope may leave Liam alone on B&B.
This site is a leading source for everything linked to The Bold and the Beautiful. Check back regularly for B&B spoilers and news!