The Bold and the Beautiful spoilers say it's only a matter of time before the new badass Hope Logan (Annika Noelle) crumbles and we begin to see her former self again.  Keep reading for all the details and new B&B spoilers.
Hope Logan has certainly been a little looney lately, but you have to admit it was nice to see her stand up for herself and not be swayed by everyone else's opinions.  But, at the end of the day, she's still a mom to Beth.  And her children seem to be the one constant in her life that never falters.
The Bold And The Beautiful spoilers – Hope Logan's Change Of Heart
According to B&B spoilers, her love for her kids might be what makes Hope have a change of heart and cut ties with Thomas Forrester (Matthew Atkinson).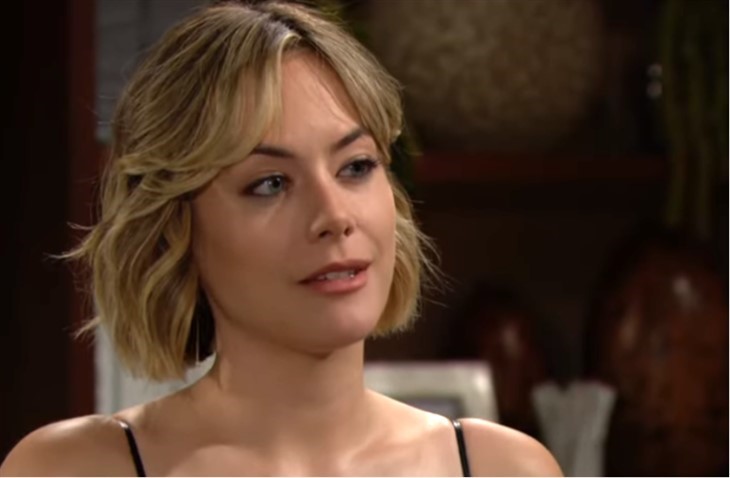 On a recent episode of The Bold and the Beautiful, Liam Spencer (Scott Clifton) walked in on Hope prancing around in lingerie and waiting for Thomas.  Awkward!  Of course, Liam couldn't help but get his digs in about her relationship with Thomas.
Then Liam said something that appeared to hit Hope Logan hard, and reminded her that Thomas kept her baby a secret from her and nearly cost her the chance to be Beth's mom.
Meanwhile, B&B spoilers say that while Liam was hitting Hope where it hurts, Thomas was professing his love for Hope Logan to her mother Brooke Logan (Katherine Kelly Lang).
Brooke warned Thomas that his relationship with her daughter would be short-lived and not to get too attached.  Wow, foreshadowing much?
B&B Spoilers – Thomas Forrester Doesn't Stand A Chance
It looks like Hope and Thomas' scandalous romance is starting to hit home and his muse may be having second thoughts about him.
According to The Bold and the Beautiful spoilers, there's a storm brewing on the soap and it won't be long before Thomas Forrester is the odd man out again.
Do you think Hope is coming to her senses and will kick Thomas to the curb soon?  Is Liam wrong for refusing to just let her be happy and reminding her what Thomas did?
Share your thoughts in the comments below and keep checking back here for more The Bold and the Beautiful spoilers, news, and updates.