The Bold and the Beautiful (B&B) spoilers say Liam Spencer (Scott Clifton) is a hot mess these days on the CBS soap.
If waffling were a disease, he's be a stage four.  Is there another brain tumor twist coming on the CBS soap, because Liam Spencer is certainly acting strange and it might be time somebody addressed it.
Here's what soap fans can expect to see coming up on The Bold and the Beautiful.  Keep reading for more B&B spoilers.
The Bold And The Beautiful Spoilers – Liam Spencer's Creepy Behavior
This week on The Bold and the Beautiful, Steffy Forrester (Jacqueline MacInnes Wood) will be shocked by Liam Spencer's brazen behavior.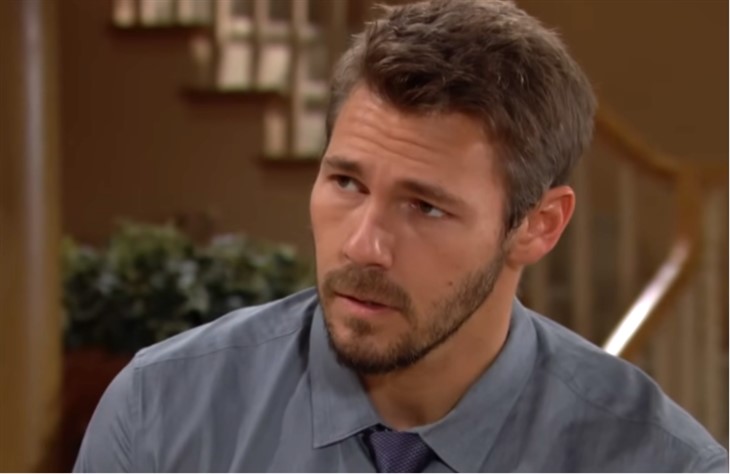 Let's not forget, first Liam flew to Italy to catch Hope Logan (Annika Noelle) cheating.  Then he ran and planted a kiss on Steffy Forrester, who politely shut him down.
Liam didn't back down though and continued to snoop around Steffy, and refused to accept the fact she was happily married to Hayes Finnegan (Tanner Novlan).
This week on The Bold and the Beautiful, spoilers say Liam will corner Steffy and profess his love to her.  Then, he will ask her to leave her husband Finn for him.
Steffy will be completely taken aback, and for obvious reason.  How many times does she have to tell her ex she isn't interested and won't be leaving her husband?
B&B Spoilers – Is Something Wrong With Liam Spencer
The Bold and the Beautiful has been focusing on Thomas Forrester's (Matthew Atkinson) creepy behavior towards Hope.  But, why are we supposed to accept this obsessive stalker behavior from Liam.
There's nothing romantic about following a married woman around and trying to kiss her and convince her to end her marriage on a daily basis.  Liam is getting creepy!
At this point, the writers have made Liam Spencer look like a creep.  Whether you like Hope or not, we can all agree his behavior towards her was strange and what drove her to Thomas.
His pursuit of Steffy is getting a little too close to the Me Too Movement for our liking.
Is Liam Spencer struggling with his own mental health issues?  Is this really the behavior of a sane man?  Why is Liam allowed to act like this, but when Thomas does he has to have a tumor?
Let us know what you think in the comments below and keep checking back here for more The Bold and the Beautiful spoilers, news, and soap opera updates.