Y&R Spoilers: Rey Suspicious Of Sharon, Turns To Chelsea?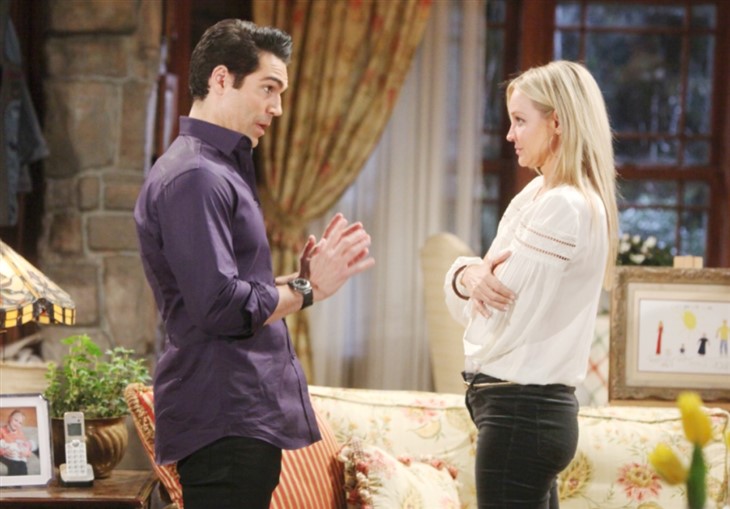 The Young and the Restless spoilers document that Rey Rosales (Jordi Vilasuso) remains super-sensitive. He mistook his wife's nostalgic conversation with Nick Newman (Joshua Morrow) the wrong way.
Rey has surprisingly revealed that he is still insecure about his marriage. Adam Newman (Mark Grossman) can not be blamed this time, as he was not the man Rey saw Sharon Rosales (Sharon Case) smiling at.
The above is a bit of a stretch. But readers of this site know that Vilasuso is no longer part of Y&R's cast and that the developing storyline is part of Rey's apparent write-out.
The Young And The Restless Spoilers – Rey Rosales Should Be Developed, Not Cut
Buzz indicates that Rey may be killed off. Hopefully, that does not happen, as doing so would likely prevent Vilasuso from returning to the cast. Of course, he could come back as Rey's evil twin because this is daytime drama.
But seriously, why cut this character from the show? It is a choice rather than a needed action.
If TPTB felt that Rey did not have mojo with Sharon, then split them. Doing so seemed to be where the Rey-Chelsea Lawson (Melissa Claire Egan) flirtation has been leading.
Y&R Spoilers – Chelsea Lawson Falling For A New Guy
Rey appears to be Chelsea's rebound connection following Adam's choice not to pursue a coupling revival. Rey was drawn to Chelsea because he felt sorry for Adam mistreating her.
Of course, Chelsea has long been jealous of Sharon. That is because she is the deeper love of Adam's life.
Falling for Rey is natural, as Chelsea bonded with him during the police escort he offered her and Connor Newman (Judah Mackey) to Minnesota so she could care for a then-recovering Anita Lawson (Catherine Bach).
The Young And The Restless Spoilers – Sharon Rosales Will Need Support
Sharon is living a steady life in recent months. She and her loved ones are enjoying the benefits of cancer being defeated.
That inspiring storyline allowed Sharon and Rey to gain their footing as a couple. They have not been threatened or out of sync until now.
Having Rey bond with Chelsea and then face what appears to be a fateful exit in the coming weeks is disappointing.
Just as some things do not work out in real life, so too can promising pairings be dashed. In this instance, the writing staff appears to be writing the end of Sharon and Rey because of the choice to not renew Vilasuso's contract at the standard six-month interval.
This site is a leading source for everything linked to The Young and the Restless. Check back regularly for Y&R spoilers and news!