GH Spoilers Friday, October 27: Decisions, Doubts And Discussions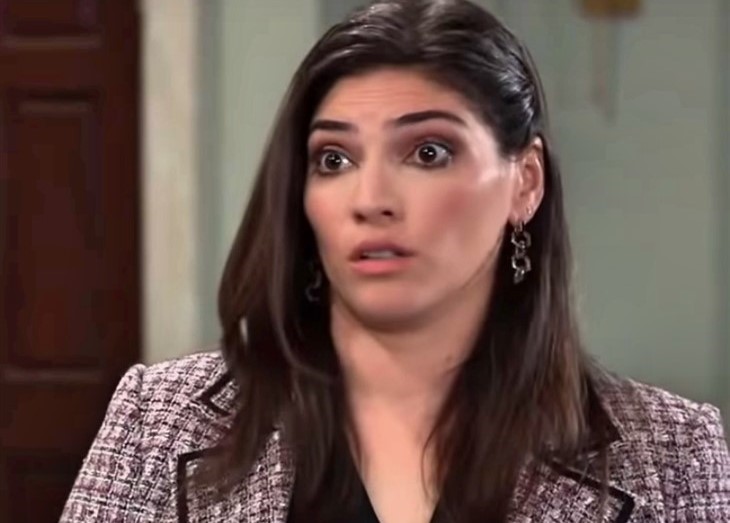 General Hospital (GH) spoilers and updates tease for Friday, October 27 there will be decisions, doubts and discussions for the people of Port Charles. Brook Lynn Quartermaine (Amanda Setton) decides something, Josslyn Jacks (Eden McCoy) has her doubts, and Ned Quartermaine (Wally Kurth) has a discussion.
General Hospital Spoilers – Decisions, Decisions
Brook Lynn wakes up in bed after her first time making love with Harrison Chase (Josh Swickard). He looks like he's ready for more as she asks him why would she want to sleep in when she can spend her morning with him? Decisions, decisions whether to spend the day in bed or spend the day making decisions about his music career which is starting to take off.
It looks like Brook Lynn may decide for love instead of business, making a different type of beautiful music together. It might be a while before they're ready to face the day.
GH Spoilers – Questions
Willow Tait (Katelyn MacMullen) has gone in for an obstetrical checkup after experiencing some stomach pain at the Quartermaine mansion. TJ Ashford (Tajh Bellow) looks very concerned and serious and Willow can tell there's something up. She looks up at him from the hospital bed at GH and asks him what Dr. Britt Westbourne, (Kelly Thiebaud) is concerned about. From the look on TJ's face, and the look of alarm on Willow's, it looks like it's not going to be good news.
General Hospital Spoilers – Doubts
Josslyn looks at someone as she has her doubts about a decision that she may be about to make that could be life-changing. She says that Cameron Webber (William Lipton) won't be able to handle something. The two of them have been having some discussions recently about not being on the same page, even though they apparently spent the night together at his mother's house.
Josslyn is very serious as she tells the person she is talking to that Cameron won't be able to handle something. It sounds like in spite of everything, she may be breaking up with him because of her increasing attractions to Dex Heller (Evan Hofer).
GH Spoilers – Busted?
In the meantime, Cameron is flashing an embarrassed smile at Dr. Hamilton Finn (Michael Easton) who had promised Elizabeth Baldwin (Rebecca Herbst) he'd watch her boys while she's gone. It sounds like maybe Finn showed up before Cameron and Josslyn could get busy in his bedroom the night before. Elizabeth hadn't wanted Josslyn to spend the night and Finn smiles as he quizzes Cameron, "That's your story and you're stickin' to it?" Cameron had a bit of a dilemma because he didn't want Josslyn walking back to the dorm alone but didn't want to leave his brothers alone either.
General Hospital Spoilers – Not Turning Back
In the meantime, it looks like Elizabeth and her longtime friend Terry Randolph (Cassandra James) have reached Monterey, where a seminar is being held they plan to attend. Elizabeth also had plans to break into her parents' house while they're not home and look for evidence, as she's calling it, of what happened in the Mariana Islands. Elizabeth, her sister, her parents, and Finn and his late wife Reiko Finn (Mele Ihara) had been there at the same time in a Doctors Without Borders facility.
Elizabeth is trying to fill in the blanks of what happened after she had been in a struggle with Reiko at the top of a staircase. She tells Terry that there's no way she can turn back now, she has to find out if Reiko lived and who the man at the top looking down was.
GH Spoilers – Discussions
Ned has a discussion with Michael Corinthos (Chad Duell) and wants to know if something is what he orchestrated, or Drew Cain (Cameron Mathison). Ned could be talking about one of their head honchos, Valentin Cassadine (James Patrick Stuart) who has recently gone missing. Back when Aurora Media and Cassadine Industries had considered a merger along with an IPO, Ned had sided with Valentin so they both could keep their CEO positions.
Ned's head is in the money and keeping control, so it may sound like a reasonable hypotheses to him as to why Valentin is currently missing in action. But that fault would not be Michael's, it would be Victor Cassadine's (Charles Shaughnessy).
General Hospital Spoilers – Another Big Decision
Meanwhile, still in Jacksonville, Florida with Drew, Carly Corinthos (Laura Wright) makes another big decision. It sounds like she's telling Drew she doesn't want to go anywhere right now, but eventually she's going to have to return to Port Charles and so is he. The sandy beaches and warm weather of Jacksonville might hold a certain allure, now that Carly has made peace with her past there, no doubt. But eventually they will have to return to their life in Port Charles.
Carly's family and Drew's business and his family are in Port Charles, not Jacksonville. They will have to leave "paradise" eventually and return to their homes there.
Be sure to catch up on everything happening with GH right now. Come back here often for General Hospital spoilers, news, and updates.