GH Spoilers: Esme Plans To Drug Trina And Josslyn, Eliminate The Competition?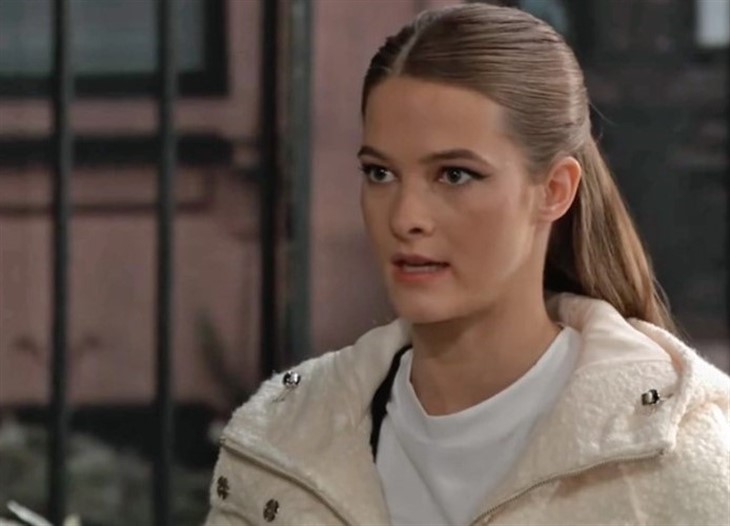 General Hospital spoilers and rumors tease that Esme Prince (Avery Kristen Pohl) has an evil plot; she plans to drug Trina Robinson (Sydney Mikayla) and Josslyn Jacks, (Eden McCoy) in upcoming episodes of General Hospital, therefore eliminating the competition!
General Hospital Spoilers And Rumors – Esme Prince Picked Up Some Drugs At General Hospital
General Hospital viewers will recall that Esme picked up some drugs at General Hospital in a recent episode, telling the person she picked them up from that she didn't need any instructions for use or any further discussion about them. She told the woman that she knew how to use them and didn't want to talk to the hospital pharmacist, indicating she is either familiar with these drugs or has a special use for them!
Viewers will recall that Esme is working on an internship at Spring Ridge, but her internship and her field of study has nothing to do with using medicines or dispensing them so her motives are suspect! Esme, Trina, Josslyn, Spencer Cassadine (Nicholas Chavez) and Cameron Webber (William Lipton) are set to spend some time together in the Corinthos cabin, and Esme's seemed a little too interested in Cameron lately, in spite of dating Spencer!
GH Spoilers And Rumors – Esme Prince Is Jealous Over Spencer Cassadine But Flirting With Cameron Webber
General Hospital viewers will have noticed Esme is jealous over Spencer but flirting with Cameron ; there is a possibility that Esme feels intimidated by Joss since "Spence" was into her in the past. However, longtime General Hospital viewers will remember that this was when Spencer was a young pre-teen, and Josslyn and Emma Scorpio-Drake (Brooklyn Rae Silzer) were his first crushes, and nothing very serious.
Trina may pose much more serious competition for Spencer's attention, but perhaps Esme is flirting with Cameron in case she needs a fallback – to make sure if she loses Spencer she has Cameron! This doesn't make a whole lot of sense in anyone's book, since right now neither young man has any huge source of income, which Esme is accustomed to, but then, nothing Esme has been doing has made much sense! Esme seems the type that wants all the attention and cannot handle competition!
General Hospital Spoilers And Rumors – Is Esme Prince Planning To Distract, Or Planning To Kill?
One very good question that General Hospital viewers have, considering Esme's seeming fascination with serial killer Ryan Chamberlain (Jon Lindstrom) is if Esme's planning to distract, or planning to kill by drugging Trina and Josslyn! Many General Hospital viewers have thought that perhaps Ryan is Esme's birth father, and she has tracked him down and glommed onto Spencer because he's from Port Charles, wanting a way to get to where Ryan is!
It does appear that Esme did have a trust fund but she revealed it had been cut off, or at least she told Spencer it had been when they couldn't pay for their Metro Court suite! If Esme is trying to seduce Cameron she might drug the girls and Spencer as well so they won't know, and depending on the drug, she could be trying to distract, and could drug Cameron as well! But Esme could be planning to kill – and it could either be to eliminate her competition or to impress Ryan! Be sure to catch up on everything happening with GH right now. Come back here often for General Hospital spoilers, news, and updates.