General Hospital Spoilers: Elizabeth Confronts Nikolas About Esme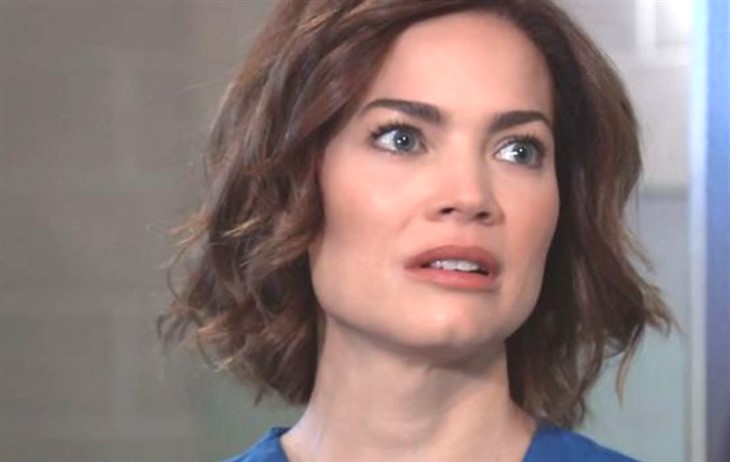 General Hospital spoilers tease Elizabeth Webber (Rebecca Herbst) was weary about going to Wyndemere in the first place. She's hurting after Hamilton Finn (Michael Easton) ran out on her the way he did — even though she understands he's going to need some space and time to make peace with everything she just told him about his late wife. Still, Elizabeth has needs, too, and she and Finn haven't been able to meet in the middle in some time now.
General Hospital Spoilers — Elizabeth Webber Heads To Wyndemere
When she called Nikolas Cassadine (Marcus Coloma), she was reaching out to a friend in a time of need. Maybe she just needed someone to tell her it would all work out. Either way, as she waited to board the launch to Spoon Island, Esme Prince (Avery Kristen Pohl) was the last person she expected to see on the pier. Their scuffle quickly led to Elizabeth fading in and out of consciousness after hitting her head. She could question her own judgment, but Liz knows she saw Nikolas, and she's going to get to the bottom of why he was there.
Elizabeth doesn't know what she's going to find when she makes the trek to Spoon Island. She's not setting herself up for disappointment by expecting much, that's for sure. Elizabeth has been burned enough times by Nikolas and his tendency to lie that she doesn't have high hopes for him shooting straight with her.
GH Spoilers – Tease Someone Is Watching
General Hospital spoilers tease Elizabeth might be determined to get answers — especially on the heels of Carly Spencer (Laura Wright) showing up at her door and demanding the same information from Elizabeth that she wants from Nikolas. She and Carly have never seen eye to eye, and Elizabeth has always felt that nothing is good enough for Carly. So she may be particularly annotated when she heads to Wyndemere, and Carly could take note of that as she watches from a distance. As far as Carly knows, Elizabeth could be lying and covering for someone — and when Liz jumps on the launch to go see Nikolas, that's exactly what Carly is going to assume.
General Hospital Spoilers — Nikolas Cassadine Comes Clean
Elizabeth isn't typically a confrontational person, and she's had more than enough drama this past week. She's not looking for trouble, but that's what she's going to find at Wyndemere. Nikolas is going to attempt to explain the circumstances to her, and she's probably not going to feel very empathetic at first. However, when Esme suddenly has an unexpected health problem during Liz's visit, Nurse Webber might feel obligated to intervene. Nikolas was never expecting to rope Liz into helping him with Esme and her pregnancy, but now that's she's proven herself so useful, he can't help but beg for her pity and friendship at a time like this. Will Liz agree to tend to Esme's pregnancy? Keep checking with us every day for more GH news, updates, and spoilers to find out.