Days Of Our Lives Spoilers: TR Won't Risk Exposure, Will He Pull Plug On Eli?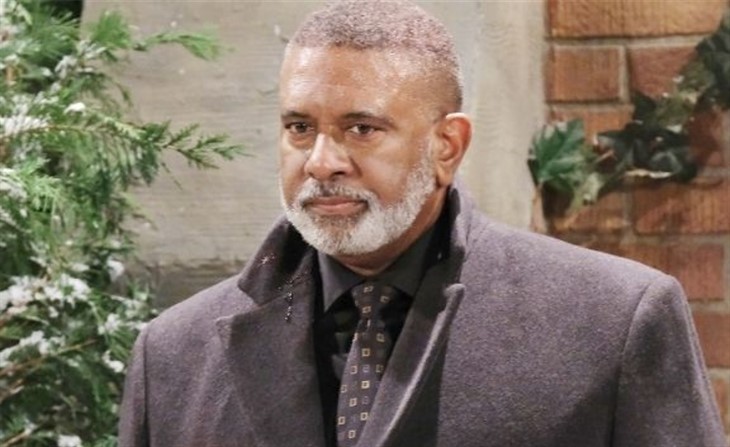 Days of Our Lives (DOOL) spoilers reveal that Eli Grant (Lamon Archey) is in a coma after being shot. TR Coates (William Christian) framed his drug dealer for the crime. The movie producer also blackmailed Beth Howard (Donielle Artese) into keeping quiet. However, if Eli wakes up and remembers, that will expose TR. Could he take drastic action by pulling the plug on Eli?
Days Of Our Lives Spoilers – Eli Grant's Medical Condition
DOOL spoilers reveal that Eli learned alarming information from TR's ex-girlfriend, Beth. Then, Eli busted TR with heroin. TR wasn't going to be exposed or go back to prison. The scuffle led to Eli getting shot. Despite surgery, Eli has brain trauma and has fallen into a coma.
DOOL Spoilers – TR Coates Covers
The movie producer has taken several steps to protect his secret and keep from being exposed. TR framed his drug dealer for the crime. TR knocked him out, then put the gun in his hand. Next, TR blackmailed Beth into keeping quiet by offering her a movie role. When Beth spoke to Chanel Dupree (Raven Bowens) and Paulina Price (Jackee Harry), she almost exposed the truth. However, the conversation was interrupted by an emergency call.
Then, TR played the nice, supportive bio dad when he showed up at the hospital. TR will continue pretending to support Lani Price-Grant (Sal Stowers). It is teased that TR manages to bond with Lani and gets closer to Paulina.
Days Of Our Lives Spoilers – Lani Price-Grant's Questioning
Days of Our Lives spoilers reveal that Lani and Paulina seem to be manipulated into thinking TR has really changed. Abe Carver (James Reynolds) is no fool, though. Abe will begin digging into TR's life to prove that he's no good.
Meanwhile, Lani and Rafe Hernandez (Galen Gering) begin asking a lot of questions about Eli's shooting. Even though the drug dealer was implicated, some things might not add up. That could become a problem for TR, especially if Eli ever wakes up. TR will do anything to keep his ruse going.
DOOL Spoilers – Pulling the Plug?
It is suggested that TR might want to make sure that Eli never wakes up. TR could go into Eli's hospital room and try to pull the plug. Even though TR is that evil of a character, we don't see him succeeding. Chances are that someone will walk in just as TR is getting ready to kill Eli.
At the same time, stories like this tend to take time to resolve. So, TR might be asked what he's doing, and he'll probably make up a story about fluffing Eli's pillow. However, villains always manage to get caught somehow.
Could Beth finally tell the truth about what she knows? Will Eli wake up and remember everything? Perhaps Abe, Lani, Rafe, or Paulina will connect the dots? We will have to keep watching the NBC soap to find out.
Be sure to catch up on everything happening with DOOL right now. Come back often for Days of Our Lives spoilers, news, and updates.