Days Of Our Lives Spoilers: The Quest To Save Baby Bo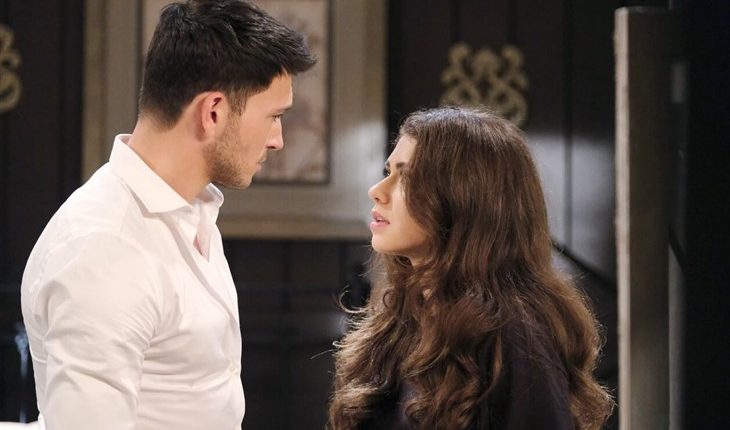 Days of Our Lives (DOOL) spoilers for Monday, May 16, 2022, reveal a band-new hero that Salem has been holding out for, except this time he is less than pint-sized.
Days Of Our Lives Spoilers – Baby Bo's Parents To The Rescue?
He might not have the last name Brady, but Salem finally has Bo back. Sure, this is Bo Brady's (Peter Reckell) grandson and Bo has been dead since 2015 when he passed way in Hope Brady's (Kristian Alfonso) arms, but he the real deal is going to put in an appearance on Days of Our Lives: Beyond Salem this summer. So, now it is time to save the newest incarnation of Bo.
Ben Weston (Robert Scott Wilson) and Ciara Weston (Victoria Konefal) dreamed their little boy and her dad's namesake would be one of the good guys, but Satan, in the form of Allie Horton (Lindsay Arnold), is determined to make him one of the bad guys. This baby is to be a permanent host. A body they can possess from birth until the end of time. It was the perfect plan, but it might go terribly wrong for the underworld.
DOOL Spoilers – It's All Very Satanic And Creepy
Satan has made sure there is very little chance that little baby Bo's parents can get to the boy and rescue him. They have a pentagram set up where they are about to perform their ritual and Ben gets injured trying to save the baby.
But a mother's love may prove to be too much for the devil and Ciara managers to break through and hold her baby. Will Ciara holding him save him from whatever the devil is trying to do? And what about Allie? Who is trying to save her as her body performs these acts and she has no control.
It looks like it's Tripp Johnson (Lucas Adams) to the rescue, but things start to go terribly wrong there too and someone may not survive. Which priest or ex-priest is needed the most to bring Allie back and save the newest Horton-Brady family member? John Black (Drake Hogestyn) and Eric Brady (Greg Vaughan) are usually the best in town for this job. Stay tuned to Days of Our Lives weekdays to see how these stories plays out.