Days Of Our Lives Spoilers: Li Shin And Kristen DiMera Conspire Together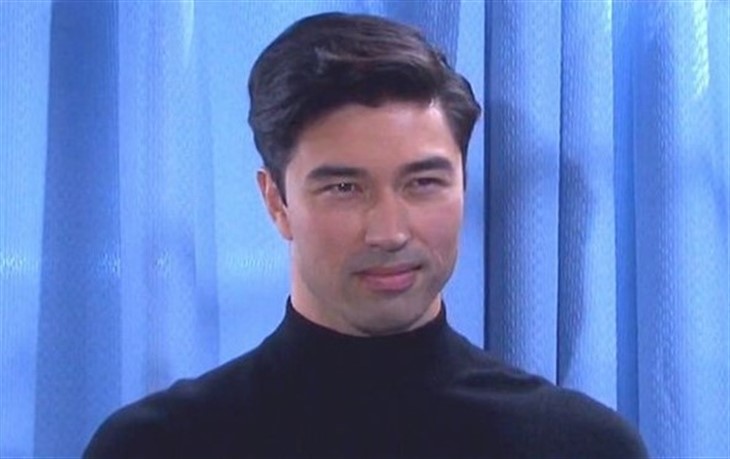 Days of Our Lives (DOOL) spoilers for Tuesday, August 16, 2022, reveal two powerful people negotiating over the life of one man.
Days Of Our Lives Spoilers – A Deal Over A 'Dead' Man's Life
Kristen DiMera (Stacy Haiduk) wants Dr. Wilhelm Rolf (Richard Wharton) to revive Stefan O. DiMera (Brandon Barash) right away so they can see if his new heart is working right and he can rejoin the DiMera family and cause the stir she so wants.
Li Shin (Remington Hoffman) does not want Rolf to revive Stefan right away because he has plans for Gabi Hernandez (Camila Banus) and it's important to him that her supposedly-dead husband stays that way for a while. After all, Gabi told Li that Stefan was the love of her life and she refused to take off the necklace with their wedding ring.
Now, Kristen and Li come together to negotiate how this is going to work. They seem to agree that Stefan must wake up eventually, but it has to be on a timetable that will work for both of them, right? Will they manage to find one?
DOOL Spoilers – A Sorta-Double Date Gone Wrong
For some strange reason, Chanel Dupree (Raven Bowens) agreed to bring Allie Horton (Lindsay Arnold) on a double date with Alex Kiriakis (Robert Scott Wilson) and wants them both to look their best. Alex is quite impressed when he sees the two women but is not quite sure what they really want, so he decides to test the waters.
Chanel and Allie are then left shocked when Alex suggests they go back to his place for a hot shower. Is he looking for a threesome or is he just kidding?
Days Of Our Lives Spoilers – Lucas Horton Does The Right Thing
After doing his best to never let Sami Brady (Alison Sweeney) know he is the one who had her kidnapped, the truth is out and Lucas Horton (Bryan R. Dattilo) has nowhere to hide anymore. To that end, he tells a devastated Kate Roberts (Lauren Koslow) that he plans to plead guilty to the crime in court.
Roman Brady (Josh Taylor) is still angry at Kate for keeping the truth about what Lucas did to Sami to herself, but will Paulina Price's (Jackee Harry) advice soften him some? Stay tuned to Days of Our Lives weekdays to see how these stories play out.