GH Spoilers: Marshall Ashford Doesn't Take kindly To Drew Cain's Investigation!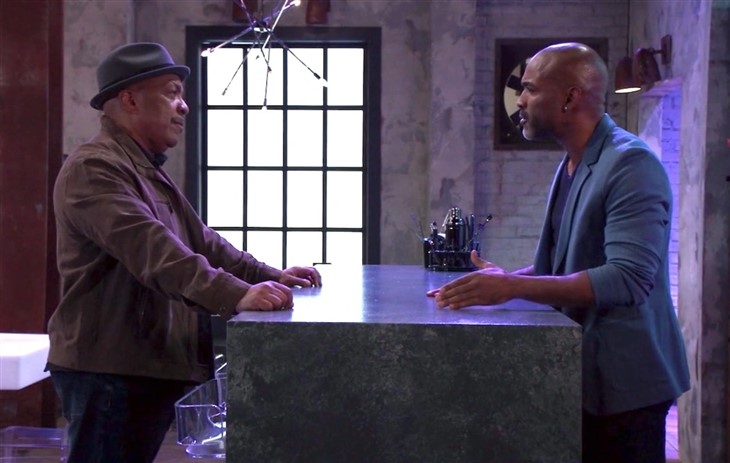 General Hospital (GH) spoilers tease that Marshall Ashford (Robert Gossett) has gone out of his way to explain why he disappeared decades ago and let everyone believe he dead. His son, Curtis Ashford (Donnell Turner) doesn't want anything to do with Marshall until he finds out everything he can about the total stranger who claims to be his dad. To that end, he has taken Drew Cain (Cameron Mathison) up on his offer to look into where Marshall has been all this time.
General Hospital Spoilers – Marshall Ashford Appears To Be A Very Dangerous Man!
When mobster Joey Novak (Patrick Zeller) was making trouble at Curtis' new club, the Savoy, Curtis threw him out. But then Marshall apparently caught up with Joey a couple blocks away. And while it isn't clear if Marshall was the guilty party, Joey was next seen beaten to within an inch of his life. Curtis already suspects Marshall beat Joey up and he certainly doesn't want that kind of protection from Marshall. Furthermore, if Marshall is that violent and dangerous, Curtis won't want him in his life at all. It's not clear if Marshall is aware that TJ Ashford (Tajh Bellow) isn't his biological grandson. TJ's father is actually Shawn Butler (Sean Blakemore).
GH Spoilers – Marshall Ashford May Go After Shawn Butler!
When Marshall finds out that Shawn is TJ's biological father, if he doesn't already know, then Shawn could find himself Marshall's next victim. Marshall may have been absent for almost all of TJ's fathers life, so Marshall could easily take it upon himself to hurt Shawn in the name of his dead son since he can't do it himself. But Curtis is a very smart man, and if Marshall does go after Shawn, Curtis will figure out why?
General Hospital Spoilers – Drew Cain May Get Too Close To The Truth!
While physically Marshall is no match for Drew, he might have mob connections that could put Drew is real hot water. Joey did seem to recognize Marshall so it could very well be true that Marshall was some sort of hitman working for the Novak family or one of the other mob families in the country. Drew will need to look over his shoulder although any interference in his investigation will likely just be an annoyance and Drew will remain unharmed. Also, if Marshall even attempts to harm Drew, Curtis will never accept him into his life. Drew may even start by questioning Curtis' Aunt Stella Henry (Vernie Watson) who knows more that she has admitted about Marshall's disappearance. Either way, look for Drew to get to the bottom of the situation.
GH Spoilers – What Do You Think?
Should Curtis investigate Marshall himself? Or was he right to ask Drew for help? Do you think Marshall is a mobster or was he in witness protection all these years? Will Curtis ever be able to accept Marshall in his life?Anything can happen in Port Charles so stay tuned to General Hospital airing weekdays on ABC. And don't forget to check back right here regularly for all your General Hospital news, information and spoilers!