General Hospital (GH) Spoilers Tuesday, July 20: Anna And Valentin Get The Break They Need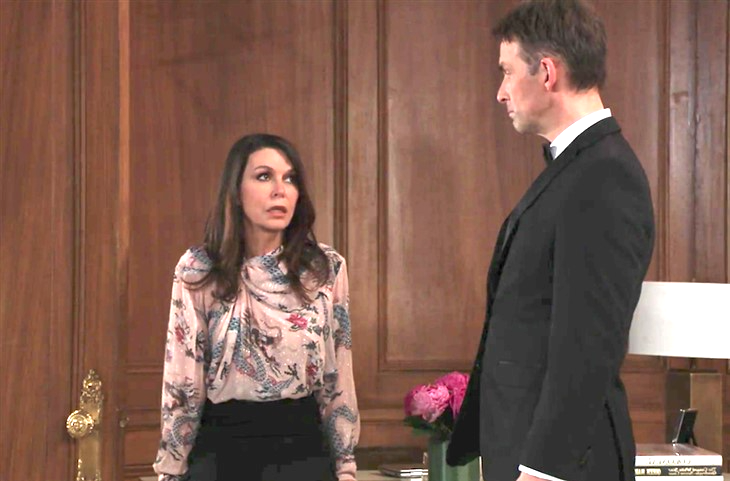 General Hospital spoilers for Tuesday, July 20, 2021, reveal Anna and Valentin learning that Peter never escaped the GH roof via helicopter that fateful night. Will this lead them to the basement lab of the hospital where an allegedly frozen Peter allegedly rests for all eternity?
General Hospital Spoilers – Someone Was On The Roof With Peter August
The scene is Ryan's Bar, an old relic from ABC Daytime in the 1970s and 80s, and it just might be where Anna Devane (Finola Hughes) and Valentin Cassadine (James Patrick Stuart)finally get a clue about just what happened to Peter August (Wes Ramsey) that fateful May sweeps day.
The pair have that helicopter pilot on the rails and he confesses everything he knows. He tried to pick up Peter that night, as the audience remembers, but he also saw a fight between Peter and a mystery man ensue on the General Hospital roof. Anna demands to know the man's description and when she does, she recognizes said description immediately. It's that of one Hamilton Finn (Michael Easton), the man she almost married back in March.
Back in Port Charles, Finn and Elizabeth (Rebecca Herbst) attend Violet's (Jophielle Love) t-ball game to cheer her on as they whisper about their big secret that Anna may soon learn. And they don't even know the half of it.
GH Spoilers – A Port Charles Teen Reunion
The Metro Court pool is the scene of much drama this summer and on Tuesday it will be teen drama as Josslyn (Eden McCoy) and Cameron (Will Lipton) reunite with Spencer (Nicholas Chavez). They were all frenemies when they were young, but they didn't know Trina (Sydney Mikayla). Joss and Cam don't even know that Trina and Spencer already met.
General Hospital spoilers say that Trina is furious when she makes a discovery. Does she stop by the pool and see her two besties know the boy she met who calls himself Victor?
General Hospital Spoilers –  Nikolas Cassadine Gets A Shock
Spencer Cassdine's father and Victor Cassadine's nephew has a talk with Molly (Haley Pullos) and TJ (Tajh Bellow) in the Metro Court restaurant and learns that Shawn Butler (Sean Blakemore) is about to be released from prison and wants to know who was really behind the shooting that left Hayden Barnes (Rebecca Budig) in a coma for months back in 2015. That means someone besides the host of people who already know will soon learn Nikolas (Marcus Coloma) is the person Shawn is looking for.
Meanwhile, Shawn is thrilled to learn his permanent release is imminent, while it looks like Alexis may linger behind bars longer. Stay tuned to General Hospital weekdays to see how these stories play out.