General Hospital Spoilers: Brando Decides That He Doesn't Want To Give Up On Molly? How Far Will He Go?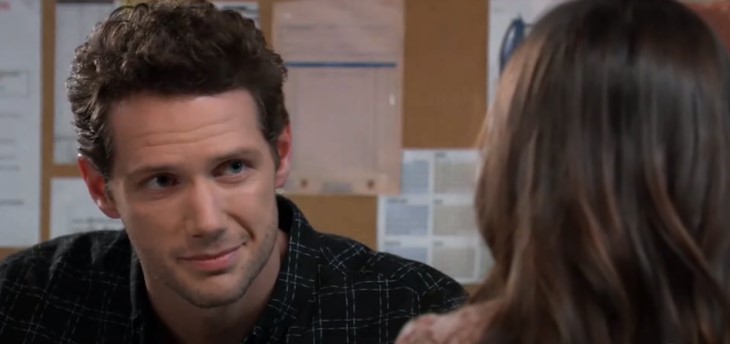 General Hospital (GH) spoilers suggest that Brando Corbin (Johnny Wactor) may not wish to simply give up on the type of delightful evening he experienced recently with Molly Lansing-Davis (Haley Pullos). GH viewers know that Brando had a one-night stand with Molly. However, many GH fans thought it seemed apparent that Brando was actually into Molly and could have wanted something more.
General Hospital Spoilers – Brando Corbin And Molly Lansing – Davis Flirt
GH fans know that not long ago, Molly thought her boyfriend, TJ (Tajh Bellows) broke up with her. Well, actually, Molly was disgusted that TJ's mom, Jordan Ashford (Briana Nicole Henry) broke up with her on TJ's behalf. In other words, in Molly's eyes, TJ had become a coward who couldn't be a man and break things off with her personally.
Hurt and angry, Molly didn't pay attention to her driving and ended up wrecking her supremely awesome, super-duper environmentally friendly hybrid. Molly then got Brando to take a look at her car and give her a non-taking advantage sort of quote for his services.
Of course, then Molly and Brando flirted, which led to an evening of passion.
Some GH fans have protested a bit and actually accused Molly of taking advantage of Brando.
Sort of.
GH Spoilers – Wham Bam Molly Lansing – Davis Takes Off
Now, the thing many GH fans have an issue with is the fact that Molly had an affair with Brando literally two seconds after TJ supposedly dumped her. This doesn't really reflect the behavior of someone who was in emotional and mental agony over a missing boyfriend. Molly's anger (justified or not) at not knowing what happened to TJ, and then at being dumped, doesn't seem like it would be enough to cause her to immediately stray. In other words, for a young woman who many GH fans consider to be super self-righteous, Molly's behavior was out of character. Either that, or Molly is just majorly hypocritical.
In any case, Molly is obviously incredibly attractive. Brando saw nothing wrong with having a night where he and Molly enjoyed one another's company. However, with the way Molly took off the next morning, a lot of men would simply move on and consider it a one-time thing. It might have been a rocking evening, but when men do what Molly did the next morning … well, most women don't appreciate that kind of behavior. In fact, guys that behave that way usually lose any respect the woman may have had for them.
If Brando isn't a beta male pretending to be an alpha, some GH fans think that like women who are ditched first thing after carnal pleasures, he ought to totally forget about Molly and move on with someone more mature.
General Hospital Spoilers – Brando Can't Stop Day Dreaming
Is he daydreaming or is Brando remembering a real event? Some GH viewers have suggested that even after Molly totally dissed him after their night together, Brando seems all hung up on her. Who knows, maybe everything that night was just that good. Maybe Brando's just been super lonely since he came to Port Charles. Maybe Molly fits his image of the ideal woman. Who knows?
General Hospital Spoilers and Rumors: Jason Morgan And Cyrus' Deadly Shootout – Innocent Victim Get Hits By https://t.co/Z3MVEB2afk

— SOS/CTS/HH (@SoapOperaSpy) April 10, 2020
The bottom line is that if Brando chooses to forget about Molly, he will likely save himself a whole lot of drama. If Brando cannot forget about her and decides that he simply must have Molly, it's possible GH fans could see a new conflict brewing. Brando and TJ fight for the love of Molly!
Of course, many feel that might be a losing proposition for Brando because it would mean Molly would have to choose between the security of a relationship with TJ that she knows and is comfortable with … and a mechanic she knows next to nothing about.