EastEnders Spoilers: Karen and Billy's Relationship Goes Through Rough Patch over Keanu's Exit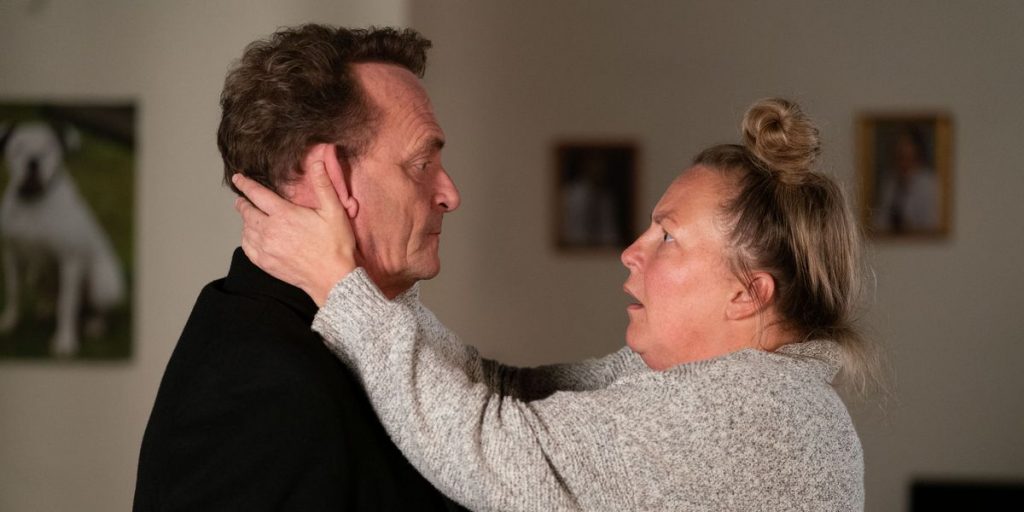 Tensions will run high between Karen Taylor (Lorraine Stanley) and Billy Mitchell (Perry Fenwick) next week on "EastEnders." Struggling to keep her son's, Keanu Taylor (Danny Walters), secret, Karen's suspicion that Billy knows more than he's letting on grows stronger. She'll test his loyalty but will be disappointed when he decides to stay loyal to his family. Does this mean the end of Karen and Billy's relationship?
Eastenders Spoilers: Karen Taylor And Billy Mitchell Grows Closer
Karen and Billy grew closer together during the wife swap competition at The Queen Vic. Their romance had a bumpy start but that's nothing compared to the test their relationship will go through in the upcoming episodes.
Viewers may recall that Phil Mitchell (Steve McFadden) has finally discovered about his wife's, Sharon Mitchell (Letitia Dean), and Keanu's affair. It was a revelation that has long been anticipated by countless fans. The Mitchells immediately hatched a plan to murder him.
Eastenders Spoilers: The Mitchells Want Keanu Dead
Ben Mitchell Mitchell (Max Bowden) instructed Martin Fowler (James Bye) to carry out the plan but the latter was unable to pull the trigger especially when Linda Carter (Kellie Bright) got involved. Martin, Linda, and Keanu then came up with a cover-up, which meant the latter has to leave his life behind and start a new somewhere else.
Keanu bid goodbye to his mother, Karen, thanks to Martin to made it possible for the mother and son to see each other one last time. The pair said their farewell at Stansted Airport and explained why he needs to stay away and never return to the Square.
As Keanu leaves, Karen is now left with the sensitive information that her son is alive, something that needs to stay a secret. She struggles to keep the fate of her son to herself and her suspicions that Billy knows more isn't helping.
Eastenders Spoilers: Gray Violently Grabs Chantelle – Furious She's Still Not Pregnant https://t.co/ET7KMsxKD0 pic.twitter.com/URyb1Ygavl

— SOS/CTS/HH (@SoapOperaSpy) January 4, 2020
Eastenders Spoilers: Karen Tests Billy's Loyalty
Karen will test Billy's loyalty over Keanu's disappearance, which would annoy Jay Brown (Jamie Borthwick). The latter will remind Billy of his priorities and he acknowledges that he has to stay loyal to his family.
Karen will be left disappointed over Billy's actions, which would later make her question if their relationship can survive this current dilemma. She'll be furious at him but she'll still help his daughter Janet Mitchell (Grace) after learning that she's no longer participating in the pageant.
Lola Pearce (Danielle Harold) will reveal that Karen had a hand why Honey Mitchell (Emma Barton) changed her mind. Because of this, Billy will visit Karen to thank her. Will the two make amends or will this be the end of their budding romance?
Be sure to tune in to catch up on everything happening with the soap right now. Come back here often for Eastenders spoilers, news, updates and rumors!