This Is Us Star Sterling K. Brown To Guest Star On Amazon Original Series, The Marvelous Mrs. Maisel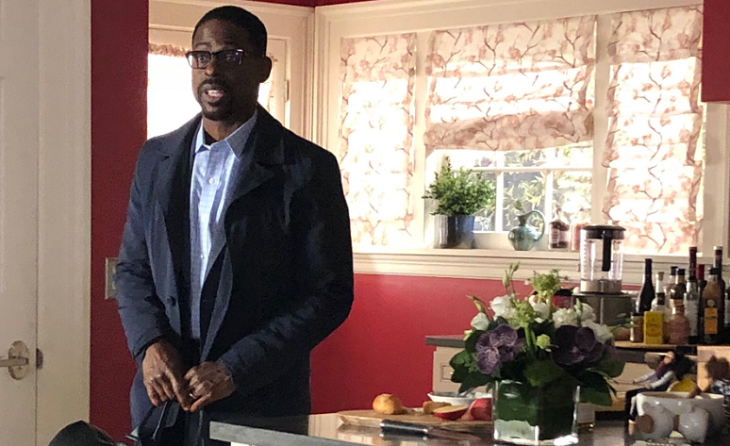 Sterling K. Brown, known as Randall Pearson in This is Us, will make a guest appearance on the top-rated Amazon original series The Marvelous Mrs. Maisel.
Brown broke the news via Twitter where he posted a video, which shows him sipping from a coffee cup and letting out a sigh of happiness.
In the video, he says, "Sterling K. Brown here, just having a sip of water, checking out the ambiance here in sunny California. But I'm not going to be here long — I'm eastward bound."
"Gonna go do a little TV show, maybe you've heard of it: The Marvelous Mrs. Maisel," he continued, before letting out a deep chuckle. "The Palladinos were kind enough to write a little something for your boy, and I said yes, so stay tuned. I'm getting together with Midge and it's going to be awesome."
Rachel Brosnahan Wanted The This Is Us Star On Her Show
The announcement came months after the lead star of The Marvelous Mrs. Maisel, Rachel Brosnahan, crashed a red carpet interview of Brown by Entertainment Tonight and said that she would love to have him on the series.
I'm beyond excited to share some pretty marvelous news… #MrsMaisel, I'm coming for you!?????? @MaiselTV @PrimeVideo pic.twitter.com/0QCVhJSgSJ

— Sterling K Brown (@SterlingKBrown) April 15, 2019
Later, Brown reacted by tweeting, "Don't y'all play with me?! If you find a way for a brother to play with Midge @RachelBros and her dad #TonyShalhoub … I just might faint!"
It remains unclear if the casting was already underway during that interview. So far, nobody knows what Brown's character name is and what plotline he will be in on The Marvelous Mrs. Maisel. However, it was revealed that he will appear on a three-episode arc.
Sterling Won't Appear On The Marvelous Mrs. Maisel Long
The first season of the Amazon Prime series centers around Midge Maisel (Rachel Brosnahan), a Jewish housewife who discovers her talent as a stand-up comedian after her husband left her for his secretary. When he abandoned her, a drunken Midge heads up to the stage and starts to make people laugh with her wordplay.
During the second season, Midge takes stand-up comedy seriously and starts to go on tours. The series is set to air its third season in May, which consists of eight episodes.
Sterling K. Brown's other TV credits include The People V. O. J. Simpson: American Crime Story and played a major role in movies like The Predator and Black Panther. He's also one of the voice actors of upcoming animated movies Frozen 2 and The Angry Birds Movie 2.
As always, more detailed Spoilers and Breaking news will appear here on Soap Opera Spy!