The Young And The Restless Spoilers: Wednesday, June 5 – Adam & Phyllis Crash The Ceremony – Kyle Proposes – Victor Reveals Illness
The Young and the Restless (Y&R) spoilers for Wednesday, June 5, tease that Adam Newman (Mark Grossman) and Billy Abbott (Jason Thompson) will bump into each other at Society, ahead of Billy and Victoria Newman's (Amelia Heinle) recommitment ceremony. Billy will tell Adam that he's not invited.
Meanwhile, Summer Newman (Hunter King) and Theo Vanderway (Tyler Johnson) will wake up together in Theo's hotel room. They'll gush over how wonderful last night was and make a plan to go out later. Summer will say that she has the perfect thing for them to do.
Next on Y&R, Nick Newman (Joshua Morrow), Nikki Newman (Melody Thomas Scott), Victoria, and Abby Newman (Melissa Ordway) will gather ahead of the recommitment ceremony. Abby will take Nikki aside and tell her about the text she saw on Nate Hastings' (Sean Dominic) phone referring to Victor Newman (Eric Braeden) "starting treatments." Nikki will promise to find out what that's all about.
Y&R Spoilers– Victor Has A Rare Blood Disease
At Newman Enterprises, Nate and Victor will meet to do Victor's first treatment and they'll discuss Abby's concerns about her father. Victor will say that he wants to keep everything private for now. Nikki will arrive to confront Victor about his health, and Victor will come clean.
He'll tell Nikki that he has a rare blood disease that's life-threatening but he's optimistic. Of course, Nikki will be stunned by the news and she'll proclaim that they'll get through it together. Nikki will suggest telling their children about the disease, but Victor will refuse.
Next on Y&R, Phyllis Summers (Gina Tognoni) will visit Adam at the tack house to tell him that she won't help him. As they talk, she'll realize that he wants Dark Horse so he can use it as leverage get Christian Newman (Jamie and Alister Tobias), and she won't like that. But Adam will remind Phyllis about how the Abbotts and the Newmans will always treat them like pariahs unless they teach them a lesson. Phyllis will be intrigued.
Young And Restless Spoilers– Billy And Victoria Recommit To Each Other
At Society, everyone will gather for Billy and Victoria's recommitment ceremony – Traci Abbott (Beth Maitland), Jack Abbott (Peter Bergman), and Kyle Abbott (Michael Mealor) will be on hand as Summer arrives with Theo, which Nick won't appreciate. Billy and Victoria will take the stage for the nontraditional ceremony.
As they finish with a kiss, Adam and Phyllis will enter and interrupt the festivities as Phyllis yells that they "made it in time for the big finish." Billy will take Phyllis out and they'll argue before he tells her to get out. Inside, Victor will chastise Adam, who feels no compunction and even walks up to Christian to say hello.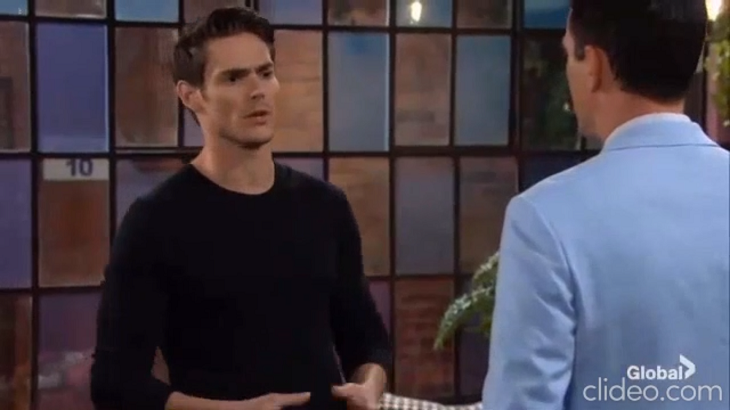 This will anger Nick, who will order Adam to leave. After Jack intervenes, Adam will leave. Meanwhile, Summer will corner her mom and the two will argue as Phyllis lashes out at her daughter. Nick will come to Summer's defense, and finally, Phyllis will leave.
Y&R Spoilers– Kyle Proposes For Real
After the big scenes, they'll have a toast for Billy and Victoria. Various conversations will ensue – Abby will learn that Nikki spoke to Victor about his health and "everything will be fine." Billy will tell Victoria that he arranged a getaway for them, and Summer will tell Theo that her father isn't whom he needs to impress…it's her.
Meanwhile, in the kitchen, Kyle and Lola Rosales (Sasha Calle) will kiss and talk about Billy and Victoria's ceremony and their love. Kyle will tie a piece of paper around Lola's finger and will promise that no one will ever come between them again. Suddenly, Kyle will say they should do this for real, and he'll ask Lola to marry him.
Finally, on Wednesday's new episode of Y&R, Phyllis will tell Adam at the tack house that he was right and that she's all in.
Be sure to tune in on Wednesday to catch up on everything happening on Y&R right now. Check Soap Opera Spy often for updates, news, rumors, and spoilers!
Soap Opera Spy is a leading source for everything linked to The Young and the Restless. Check back regularly for Y&R spoilers and news! As always, more detailed Spoilers and Breaking news will appear here on Soap Opera Spy.