General Hospital Spoilers: Nelle Gets A Surprise Visit! Will They Help Her Escape?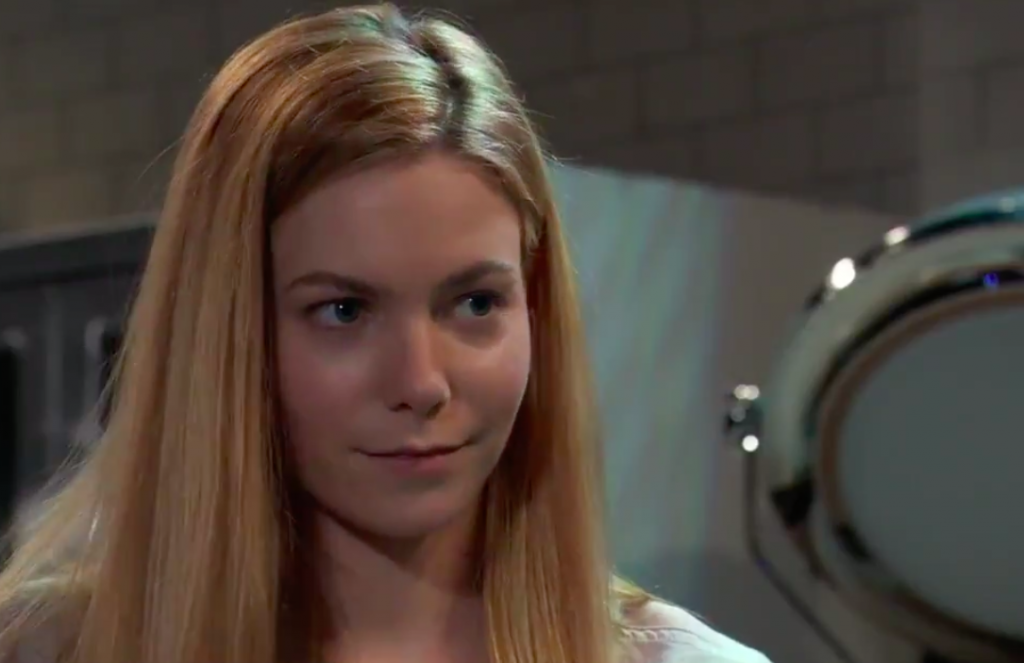 General Hospital spoilers tease that Nelle Benson (Chloe Lanier) will get a surprise visit on Friday's General Hospital! Who could it be?
GH Spoilers: Nelle Benson Will Get A Surprise Visit
There are at least a couple of options General Hospital fans can think of! The most obvious visitor would be Brad Cooper (Parry Shen) wanting to update Nelle on the problems with Shiloh Archer (Coby Ryan McLaughlin) and his search for his child with Willow Tait (Katelyn MacMullen).
However, this visit may not be in her prison cell; other General Hospital spoilers tease that Nelle may be in General Hospital getting checked out for some illness or injury she's suffered. Brad is probably making a bad mistake if he's talking to Nelle at GH about Shiloh and the possibility of his trying to get custody of Nelle's baby that he will think is his and Willow's!
General Hospital Spoilers: Most Likely The Visitor Will Be Brad Cooper
Shiloh has his spies everywhere, including the new nurse that gave him help with how to track down birth records and if she were to hear such a conversation, she'd definitely run blabbing to Shiloh, and if she didn't hear the part about Wiley Cooper-Jones (Eric and Theodore) NOT being Shiloh and Willow's baby, then the trail would lead straight to Brad and Lucas Jones (Ryan Carnes)!
Other General Hospital spoilers tease that Nelle will escape from GH and possibly hide out at Dawn of Day, either in Port Charles or in Beechers' Corners. She could have heard about the "organization" even in Pentonville Prison from other prisoners, and it's possible that Dawn of Day has a prison outreach.
GH Spoilers: Will Nelle Benson Hide Out At A DOD House
She may even be acquainted with Shiloh or Harmony Miller (Inga Cadranel) through that, if there is one. Many evangelical churches have prison outreaches where they hold church services in the prison, so it would not be surprising if Dawn of Day does the same with seminars.
After all, those prisoners with misdemeanors or other not so serious crimes will have shorter sentences and Dawn of Day would make an excellent halfway house, or so Shiloh would have presented it as one! Shiloh or Harmony, if she has been released from PCPD custody by Friday may be a potential visitor for Nelle.
WATCH: Ryan and Nelle realize their stories aren't all that different from one another. @thejonlindstrom @chloelanier #GH pic.twitter.com/fExzc0xUd2

— General Hospital (@GeneralHospital) June 14, 2019
General Hospital Spoilers: Ryan Chamberlain Will Likely Not Be The Visitor
Ryan Chamberlain (Jon Lindstrom) will not be in general population, so it's highly unlikely that he will visit her in Pentonville although General Hospital viewers have to wonder if they have a connection; after all, when Ryan was impersonating Kevin and didn't want himself found out, Nelle was in his room at Ferncliff, and he could have arranged for that himself!
Stay tuned to General Hospital and keep checking GH spoilers frequently for all the latest news, updates and developments! As always, more detailed Spoilers and Breaking news will appear here on Soap Opera Spy!