General Hospital Rumor: Nelle's Secret Partner – Who Set Nelle Free?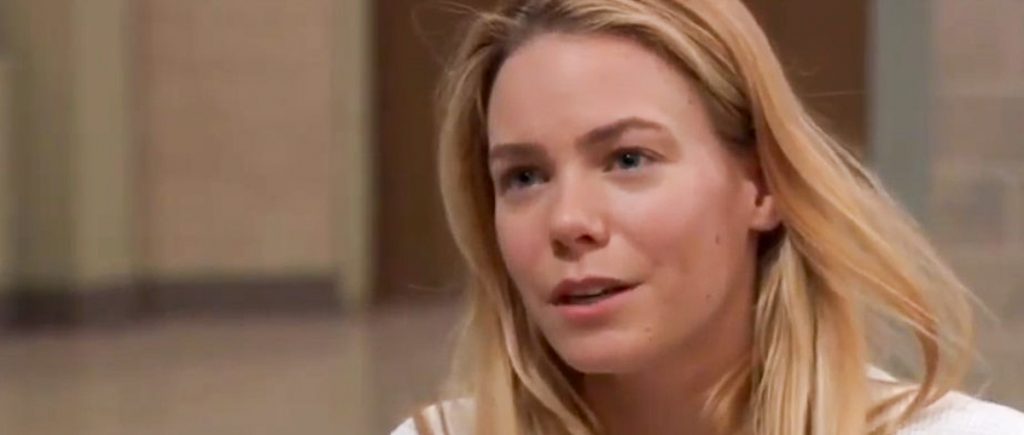 General Hospital spoilers tease that someone had to have let Nelle Benson (Chloe Lanier) loose in General Hospital; she was handcuffed to her bed!
General Hospital Spoilers – Nelle Benson Sits In Her Wheelchair Grinning Like A Cheshire Cat
As General Hospital viewers will recall from last Friday's GH episode, Michael Corinthos (Chad Duell) had brought Wiley Cooper-Jones (Erik and Theodore Olson) to the hospital to cheer up Brad Cooper (Parry Shen) at the behest of Nurse Amy Driscoll, (Risa Dorken) who had called him.
While Michael headed upstairs to the intensive care unit, where Lucas Jones' (Ryan Carnes) hospital room is, to get Brad, he left Willow Tait (Katelyn MacMullen) downstairs with Wiley. Nelle rolled up to her in her wheelchair and started chatting her up about the baby, who is really hers and Michael's child, Jonah Corinthos, and asked her if she could hold Wiley. But how did she get there? She had been handcuffed to her bed in her hospital room!
GH Spoilers – Brad Cooper Was The Last One To Talk To Her In Her Room
Brad was the last one to talk to her in her room; but he was so mad at her for causing all the problems he had had for approximately the last year and a half, it is rather doubtful that he would have unlocked her cuffs, besides, he didn't have a key! Or would Brad have let Nelle con her into getting the cuffs off of her? There was a guard assigned outside the door, but why would the guard unlock her handcuffs?
General Hospital viewers could see that unless there was a changing of the guard, it was a woman; if Nelle had to be uncuffed to use the restroom, for instance, the guard could have gone in with her. If another guard, a male, had taken over, then he would still be outside the restroom with the key to cuff her up again. So how did Nelle get loose in the first place?
General Hospital Spoilers Friday, December 27: Furious Sam Threatens Nelle – Jason Focuses on Family – Tracy Stuns Suspicious Ned #gh #generalhospitalhttps://t.co/cyCXFJ1geJ

— SOS/CTS/HH (@SoapOperaSpy) December 27, 2019
General Hospital Spoilers – Who Would Have Picked The Cuffs Lock?
Brad was adopted out of the Wu crime family but as a baby so he probably didn't learn a lot about mob life or picking locks of handcuffs. Nelle may have convinced him – or blackmailed him – into giving her something to pick the locks with though. That would explain the shocked look on Brad's face when Michael told him that Wiley was in the hospital! He wouldn't have been concerned about Nelle being there if she were still handcuffed to the bed! So however Nelle got out of her cuffs and into a wheelchair it almost had to be Brad who set her free, once again making bad decisions in the heat of the moment!
Nelle most likely blackmailed him, as previously mentioned, to get her uncuffed from the bed and into a wheelchair so she "would not be so uncomfortable, the cuffs were hurting her hands!" Even though she may have mused that she would escape, the encounter with Willow and Wiley/Jonah certainly wasn't planned. But just by seeing the Cheshire cat grin on her face, General Hospital viewers know that she was already planning to take full advantage of the situation!
Stay tuned to General Hospital and keep checking General Hospital spoilers frequently for all the latest news, updates and developments!