Young and the Restless Spoilers: Victor Returns Dramatically On Christmas Eve – The Moustache Is Back!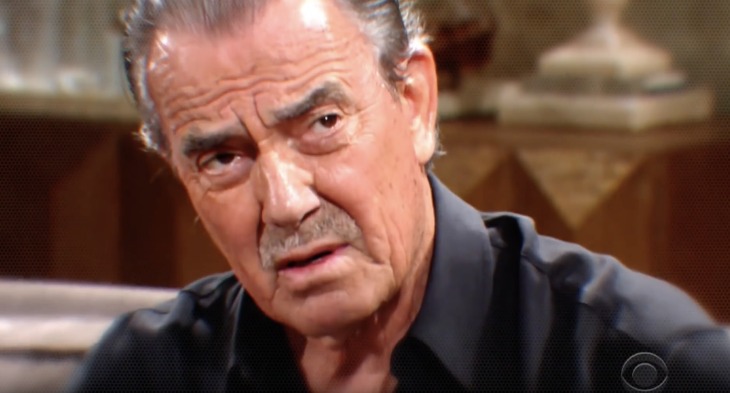 Nikki (Melody Thomas Scott) is the heart of the Newman family, as many mother's are, on 'The Young and the Restless'. But Victor (Eric Braeden) remains the main man within this iconic clan, which sets him apart from other leading gentlemen in Genoa City.
Y&R Spoilers – Victor's Return Coincides With Nikki's Health
Victor's dramatic return on Christmas Eve coincides with Nikki's perilous health state. Will the love of his life live, or might she die? Viewers will be left wondering through their Christmas day festivities.
When last he saw her, Nikki was doing well. Sure, she has Multiple Sclerosis but had been managing that disease.
Young and The Restless Victor Leaving Caused Nikki Stress
There were no signs of alcohol abuse late in the summer when Victor left on his planned business trip. Nikki took charge of their family but was forced to handle the increasing pressure of Detective Rosales' (Jordi Vilasuso) incessant questions about Y&R's ongoing murder mystery.
The #Niktor fans are going to love Monday's #YR! In Nikki's mind, she's at a piano when she sees a light. Victor appears and doesn't want her to go toward the light, so he says, "My darling, play for me." Nikki plays Nadia's Theme, gets up from the piano and she and Victor dance! pic.twitter.com/1c7WyKF37F

— Kim Huck (@acejordan23) December 22, 2018
Fans of this comprehensive soap site know that Braeden took some personal time off to visit with friends overseas. He's since returned to the cast and promised a compelling storyline was to be had for his world-famous alter ego.
LOVE Y&R? SUBSCRIBE TO OUR THE YOUNG & THE RESTLESS NEWSLETTER, HERE!
Y&R Nikki Hitting The Bottle Not Shocking
Nikki's embrace of the bottle wasn't shocking, as she's done so many times before. Such is the battle faced by addicts across the globe. Instead, her ongoing boozing was disappointing because she spoke with Jack (Peter Bergman) about the issue and apparently went to an Alcoholic Anonymous meeting.
Young and The Restless Reed's Irony
Reed's (Tristan Lake Leabu) reckless choice to drive Charlie's (Noah Alexander Gerry) car could prove to end the life of the exact person who killed his father. The horrific irony would then be that Reed and Nikki would have been involved in accidents that ended other's lives, with J.T. (Thad Luckinbill) being Mrs. Newman's unintended victim.
But hardcore Y&R fans know that Victor's past returns have often saved the day. He's not only proven to be invincible but also to possess a certain power that Nikki feeds off of, as he has been sparked by his wife in the past. So the return of the 'Moustache' offers encouragement for all 'Niktor' supporters.
Soap Opera Spy is a leading source for everything linked to 'The Young and the Restless'.
As always, more detailed spoilers and a full collection of pictures for the week in question will appear here on Soap Opera Spy, where there will be more clues and hints over exactly what's going on.
Soap Opera Spy is a leading source for everything linked to 'The Young and the Restless'.
Read more news, spoilers, and gossip on our Young & Restless homepage
Want up-to-the-minute soaps news, spoilers, and gossip on your social feeds? Just hit 'Like' on our Soap Opera Spy Facebook page and 'Follow' on our @soapoperaspy