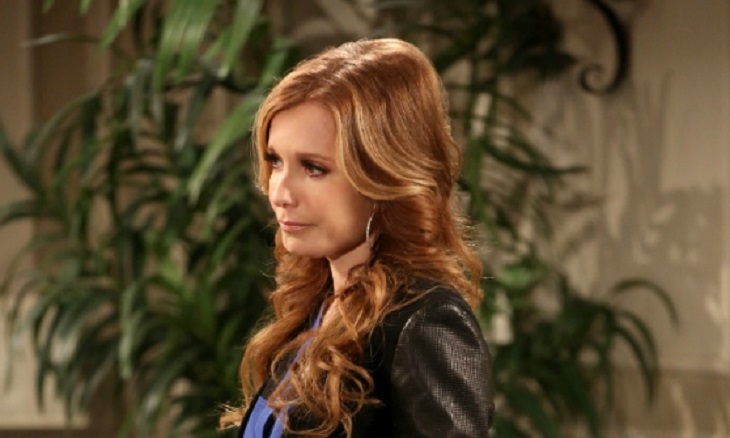 Tracey Bregman (Lauren) recently appeared in an episode of 'The Young and the Restless'. This long-tenured Y&R cast member hadn't been seen much within the last year. Hopefully, the developing storyline involving Billy's (Jason Thompson) downward poke at Fenmore's means that Bregman's recurring character will be present in Genoa City more often.
The Lauren character was mean when she debuted in 1984. She verbally intimidated Tracey (Beth Maitland) quite often during the big hair 1980's. That type of act has been relabeled as bullying in modern terms, but still represents an age-old character type.
Lauren has been with Michael (Christian Le Blanc) for many years. 'Likey' ranks with the longer tenured married couples on Y&R. However, neither solid actor has made many appearances lately. Michael was last shown while he was arguing Victor's (Eric Braeden) paternity case, as it related to Christian (Jude and Ozzy McGuigen). Lauren's reappearance in recent weeks was meant to establish the Billy-based storyline angle that's playing out now.
Billy has been secretly working on a major Jabot project. The feasibility study he's been conducting, which wasn't previously defined, has focused on Fenmore's.
LOVE Y&R? SUBSCRIBE TO OUR THE YOUNG & THE RESTLESS NEWSLETTER, HERE!
Jabot owns a 49 percent stake in Lauren's family company, a slice amount she skillfully negotiated with Eric's (John McCook) input. That original Y&R character was a lead crossover when B&B launched in 1987. Eric's return was a nice wink at the past and connection to Bregman's own long crossover run on that Los Angeles-based spinoff soap.
As Y&R fans know, Jack left Jabot when his paternity arc took hold. His decision resulted in Billy being the blood-Abbott who was tasked with running the cosmetic's company John (Jerry Douglas) founded and built decades ago.
Billy's initial resistance to being the head of the family business has developed. Today, he enjoys filing his father's former seat, has blocked Ashley (Eileen Davidson) from holding real power, is keeping Kyle (Michael Mealor) at bay, and isn't yearning for Jack to retake the reigns.
Lauren isn't an Abbott. So Billy's family power position doesn't hold the same sway with her. And, he represents a minority share. So, Billy's study might not lead to the effects he's intended.
Soap Opera Spy is a leading source for everything linked to 'The Young and the Restless'.
As always, more detailed spoilers and a full collection of pictures for the week in question will appear here on Soap Opera Spy, where there will be more clues and hints over exactly what's going on.
Soap Opera Spy is a leading source for everything linked to 'The Young and the Restless'.
Read more news, spoilers, and gossip on our Young & Restless homepage
Want up-to-the-minute soaps news, spoilers, and gossip on your social feeds? Just hit 'Like' on our Soap Opera Spy Facebook page and 'Follow' on our @soapoperaspy