General Hospital Spoilers: Charlotte's Evil Streak – Busted Bullying Red-Handed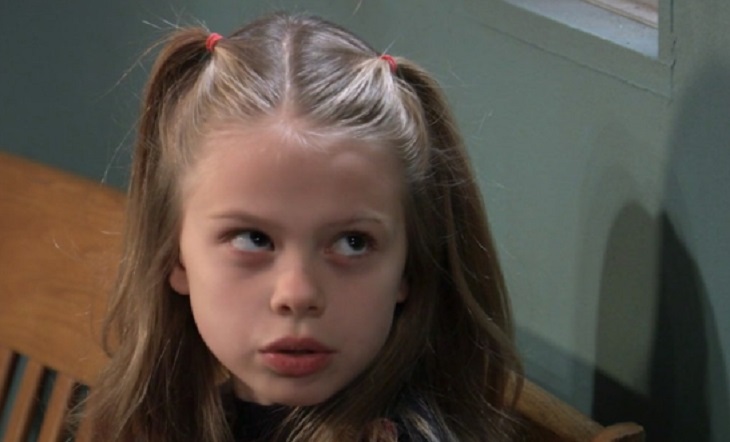 General Hospital spoilers tease that Charlotte Cassadine (Scarlett Fernandez) could get caught in the act bullying her cousin Aiden Spencer (Jason David). Spoilers say Elizabeth Webber (Rebecca Herbst) will be furious, while Nina Reeves (Michelle Stafford) is shocked! These General Hospital spoilers certainly do sound like they could relate to Charlotte and the bullying situation!
As far as Nina is concerned, Charlotte can do no wrong. She honestly is butting her nose in where it doesn't belong, now that she is divorced from Charlotte's father Valentin Cassadine (James Patrick Stuart). She has already inserted herself into a parent teacher meeting where only Valentin and Charlotte's birth mother, Lulu Falconeri (Emme Rylan) were supposed to be, with teacher Willow Tait (Katelyn MacMullen).
General Hospital Spoilers – Aiden Suffers
Meanwhile, poor Aiden just feels smaller and smaller and vulnerable, as witnessed in his drawings which his mom, Grandma Laura Collins, (Genie Francis) and future stepfather Franco Baldwin (Roger Howarth) have all seen. It doesn't take a lot of psychological training to figure that symbolism out!
LOVE GH?  SUBSCRIBE TO OUR GENERAL HOSPITAL NEWSLETTER, HERE!
Perhaps Nina, Charlotte, Elizabeth, and Aiden will be somewhere and run into each other and Nina will see firsthand how Charlotte's bullying is affecting Aiden, and maybe Charlotte will just simply be over the top with the bullying and rudeness. Perhaps Charlotte, for the first time, will even become physical with it!
General Hospital Spoilers – Adults In Denial
Nina probably doesn't realize the full extent of the problem, and even though she saw some of it in the career day in Charlotte and Aiden's school, she didn't seem to be affected by it. She thought Charlotte was being strong and independent and didn't even think she was being rude!
General Hospital Rumors: Franco Cracks After Kiki's Death, Turns To The Dark Side To Take Ryan Down @celebratesoaps https://t.co/XHpqAnk161 #GH

— CelebratingTheSoaps (@celebratesoaps) December 13, 2018
Maybe Nina herself was a spoiled brat as a child with a sense of entitlement over that of other children, so she thinks this type of behavior and attitude is normal! Stay tuned to GH and check General Hospital spoilers frequently to see how Charlotte's bullying problem and Aiden's self-esteem problem are resolved!
As always, more detailed spoilers and a full collection of pictures for the week in question will appear here on Soap Opera Spy, where there will be more clues and hints over exactly what's going on.
General Hospital airs weekdays on the ABC network.
---
Read more news, spoilers, and gossip on our General Hospital homepage
Want up-to-the-minute soaps news, spoilers, and gossip on your social feeds? Just hit 'Like' on our Soap Opera Spy Facebook page