Coronation Street Spoilers: 14-Year-Old Amy Barlow Gets Pregnant In New Shocking Storyline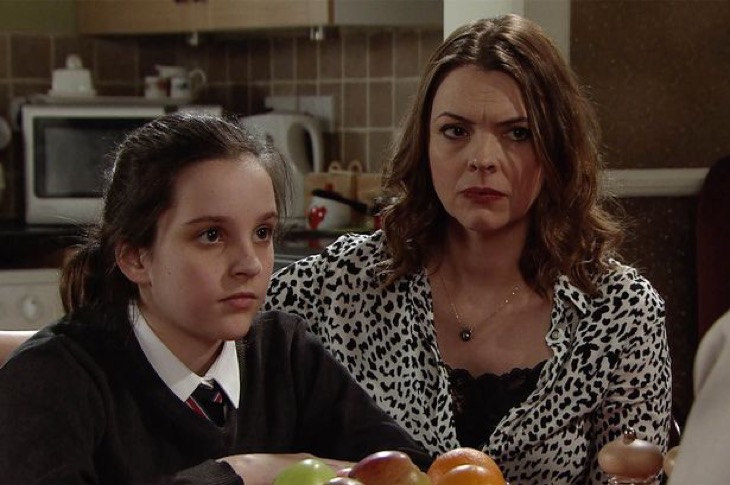 Coronation Street spoilers indicate that the father of Amy Barlow's (Elle Mulvaney) baby is about to be revealed in a surprise twist. The highly-rated ITV soap has a shocking storyline in the works, as 14-year-old Amy's life is about to change. Many fans will be not only shocked to find out that she gets pregnant but will also be surprised to find out who the father of her child is!
Coronation Street teasers say there's a strong possibility that the father of Amy's baby is none other than Simon Barlow's (Alex Bain) sworn enemy: Tyler Jefferies. (Will Barnett) This will definitely cause a lot of problems for the Barlow family.
According to Britain's The Sun, Amy will give birth to her child, but will soon change her mind when it comes to actually keeping and raising the tot, as she realizes that she is too young, inexperienced and immature to be a mother. That's when she decides to put the baby up for adoption.
#Corrie Amy Barlow pregnant by gang leader at 14 https://t.co/4swB6t5vqH

— Radio Times (@RadioTimes) December 14, 2018
One source tells the publication, "It's not long after giving birth that Amy decides she doesn't want to be responsible for the baby. It's tougher than she ever thought it could be. Although it's hard she decides to put the tot up for adoption. When she talks to Tracy (Kate Ford) and Steve (Simon Gregson) about it, they decide they should keep the baby in the family and bring her up as their own."
To complicate matters, Tyler's family will get involved in the situation and demand full-time custody of the baby. Of course, Amy's parents won't be too pleased, which will lead to a massive argument between the two families.
Coronation Street airs weeknights on the ITV network. Check your local listings for times. In the meantime, drop us a line with your thoughts in our comments section below. And as always, don't forget to check back with Soap Opera Spy for all the latest news, updates and spoilers on Coronation Street and all of your favorite British soaps right here!