All My Children Alum Susan Lucci Shares Great News With Her Fans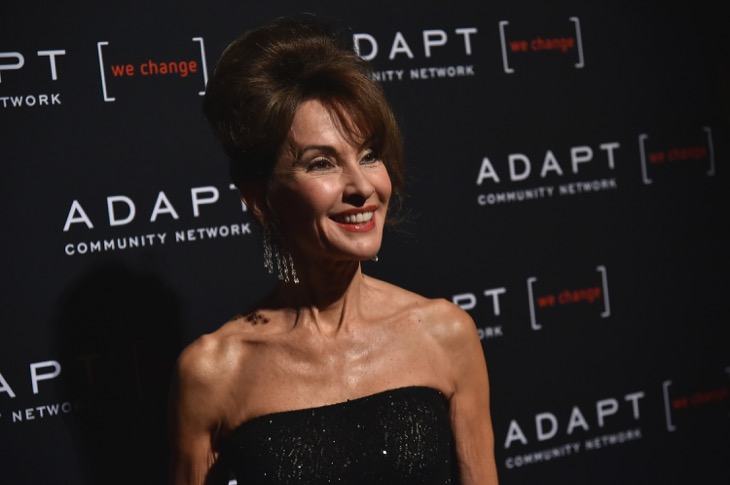 Susan Lucci is one soap star that is staying very active these days! The All My Children alumni has been very busy promoting her products and lines on the QVC channel and now it looks like she's got even more goodies to share with her fans! The 71-year-old beauty recently teased on Instagram that she is about to launch a brand-new activewear line in the coming weeks.
Sharing a photo of a killer pair of Louboutin heels while on her way to a television interview, Susan captioned her pic with, "Morning rush hour! On my way to interviews this morning—getting ready to launch Susan Lucci Active on @qvc in April!!! Soooo excited to bring my line to you!!!"
Meanwhile, the soap opera icon recently shared her secret to her successful 48-year marriage. Susan is married to her European-trained chef, Helmut Huber and according to the actress, their romance is still going on strong after nearly five decades together.
Susan says that one of the reasons why her marriage has managed to stay in fact is because she and Helmut have one thing in common: they both have a great love for food!
The one thing they love to eat the most? Susan says it's spaghetti and meatballs, which just happen to be Helmut's specialty. She said, "I've learned to be a foodie just by being with him. We love trying new restaurants together. I married a man who's very smart, very sure of himself and very funny. For me, the dynamic just worked. I got lucky."
We can't wait to see more of Susan, both on and off the screen in the coming years. Even though she doesn't have any immediate plans to return to daytime television, it's without a doubt that she will continue to remain active in the celebrity world. After all, Susan Lucci is one of the biggest soap icons the world has ever seen!
In the meantime, don't forget to check back with Soap Opera Spy for all the latest news and updates on Susan Lucci along with spoilers from all of your favorite daytime television shows right here!
Share your thoughts in the Comments section below, on our Facebook Page,  join our Facebook Group 
[fvplayer src="https://www.youtube.com/watch?v=35Mp0k_TbcI" splash="https://sos-wp-media.s3.amazonaws.com/wp-content/uploads/2018/03/AMC-Promo.jpg" width="730″ height="400″]
Photo by Mike Coppola/Getty Images for Adapt Community Network