The Young and the Restless (YR) Spoilers: Ashley and Ravi Back On – Rashley Remains Right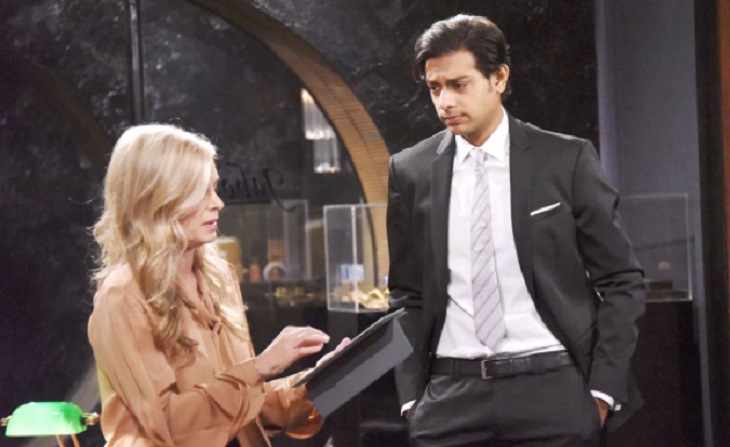 Ravi (Abhi Sinha) was feeling uncertain on 'The Young and the Restless'. But Ashley's (Eileen Davidson) invitation to the Genoa City Athletic Club served to reassure him. Yes, 'Rashley' remains right.
It was understandable that Ravi didn't know what Ashley was thinking lately. The poor soul thought he'd been invited to Thanksgiving dinner at the Abbott house, but actually wasn't.
Ashley wasn't clear when she referenced the holiday. A discrete family matter, Dina's (Marla Adams) Alzheimer's diagnosis, needed to be addressed that day. That's why Ravi wasn't allowed to stay after he'd driven out of town to pick up a Wisconsin-famous pie, returned and arrived at the front door with his food gift in-hand.
Related: The Young and the Restless Spoilers: Chelsea Freaks Out After Victor Blackmails Her
This particular couple has been and remains very heart-warming. No, they aren't age-appropriate. But everyone who's ever moved toward a serious relationship, as this pair appears to be doing, knows that a deep personal connection is one that only the involved participants can fully understand. As for all outside observers, accepting souls accept love without questions.
There are some personality types who question silly things, like this couple's applied nickname. 'Rashley' is fine. Yes, the man, or the woman's name can come first when a mashed moniker is created. If it's also memorable, then all the better as well.
There are no set rules in this regard and if there are, who exactly made them? How are they applied? Who determines penalties if they're not followed? Right, no one is the answer to those three questions.
Ravi served as a calming influence over Ashley when she first sat in Jack's (Peter Bergman) CEO's chair this week. Ashley has been a consistent promoter of Ravi's sense of self since shortly after they first met. Those are just two reasons why this duo is compatible.
LOVE THE YOUNG AND THE RESTLESS? SIGN UP FOR OUR Y&R NEWSLETTER!
'Rashley' doesn't seem close to engagement at this point in their storyline. A decision of that magnitude could happen sometime next year, however. In the meantime, Y&R fans will enjoy watching Ravi and Ashley's personal relationship develop. Good soap is always supported, especially when it's uplifting.
Soap Opera Spy is a leading source for everything linked to 'The Young and the Restless'.
Share your thoughts in the Comments section below, on our Facebook Page,  join our Facebook Group