General Hospital POLL: Is Alexis A Hypocrite Demanding Jason Let Sam Go?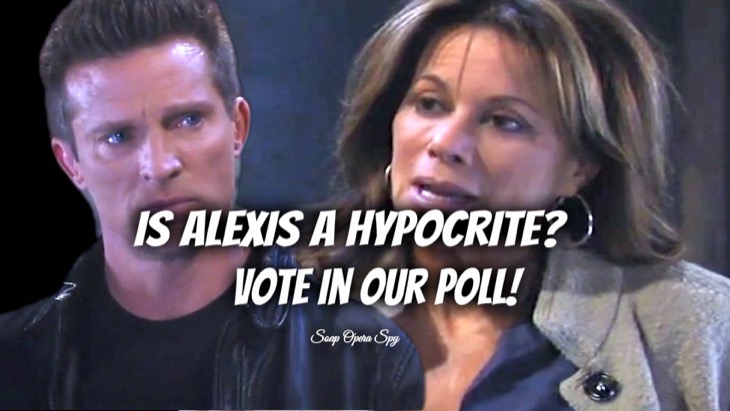 General Hospital (GH) spoilers reveal that Alexis Davis (Nancy Lee Grahn) clearly has the best intentions when it comes to her eldest daughter, Samantha "Sam" Morgan (Kelly Monaco); but one has to wonder if her telling Jason Morgan (Steve Burton) that Sam is now loved, secure and safe is the best for her.  Alexis goes on to ask him to not call Sam, don't show up and just "let Sam go!" is the right thing to say, or a bit hypocritical of her.  What do you feel – Was Alexis too harsh on Jason?
Related: General Hospital Spoilers: Bombshells Erupt In PC – Drew Arrested – Nelle Shocking Pregnancy – Paternity Results In
Fans of the ABC soap opera know that Alexis is a mother who loves her daughters dearly, but is far from a saint; like her daughter Sam, Alexis has always been drawn towards bad boys like Sonny Corinthos (Maurice Benard) and Julian Jerome (William deVry).  Alexis asking Jason to walk away from Sam, even though he loves her beyond words, is tragic and goes against everything she has ever stood for.  Remember how hard she fought for Julian, who is a mobster and head of the Jerome crime family, to spend time with his son, Leo Falconeri.  How can she push for a man with such a violent past to be with his family but beg another, who has a similar history to stay way?
General Hospital spoilers tease that currently Sam has chosen to stand by her "husband", Andrew "Drew" Cain (Billy Miller) and has been quite satisfied with him giving up the mobster lifestyle, so they can build a media empire; but viewers have to question whether Alexis had the right to step in and push Jason away without even speaking to Sam first.  The emotions are currently far too raw for anyone to make a rational decision.
It definitely feels like Alexis' heart was in the right place, and it was clear she has compassion for Jason and the tragic situation he was placed in, but for her to throw the mob life in his face and the dangers it imposed on Sam, she should have thought about that when she brought Julian back into her life, over and over again.  She also needs to remember it was because of Julian, NOT Jason, that Sam almost lost her life and the life of her precious little girl, Emily Scout.
LOVE GENERAL HOSPITAL? SIGN UP FOR OUR GH NEWSLETTER!
How do you feel about what Alexis said to Jason on the docks?  Do you feel she was being too harsh on him, insisting on him letting go of Sam?  Please vote and let us know what you think!  Be sure to tune into ABC's General Hospital (GH) to catch up on everything happening in Port Charles right now.  Check Soap Opera Spy often doe updates, news, rumors and spoilers!
Share your thoughts in the Comments section below, on our Facebook Page,  join our Facebook Group