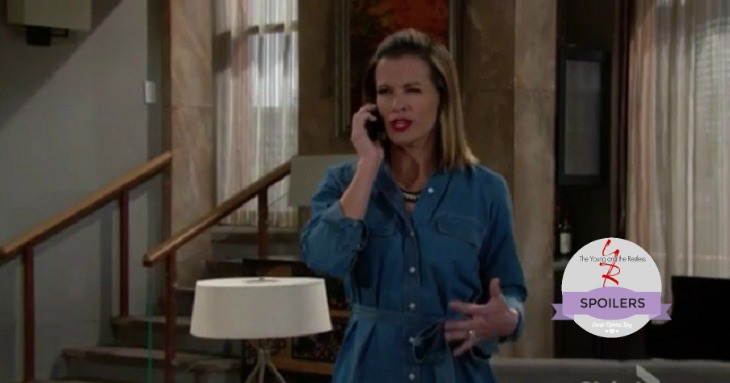 "The Young and the Restless" spoilers for Friday, July 8, tease that Chelsea's (Melissa Claire Egan) nerves will start to get the best of her. Adam (Justin Hartley) is in a tight spot and he could use some assistance. Chelsea will call Kevin (Greg Rikaart) and hope that he'll come through for her husband.
Adam needs all the help he can get. Kevin's hacking and sleuthing skills could come in particularly handy. Friday's preview video shows Chelsea saying, "I'm sorry to bother you, but I'm really freaking out here." Kevin will guess that Chelsea is concerned about Victor (Eric Braeden).
Y&R viewers know that Victor denied framing Adam and put the blame on Ian (Ray Wise) instead. However, Victor also suggested that Adam helped with Ian's escape. Adam only pretended to be in cahoots, but Dylan (Steve Burton) is still a bit suspicious.
Related: Hilary Kisses on Jack – Phyllis Rejects Billy – Max Having Seizures, Abby Fears for Marriage
Now Adam is facing an even tougher battle. "The Young and the Restless" spoilers say Adam will want to meet with his father. He'll think confronting Victor is the only way he's going to be able to prove his theory. Adam will warn Dylan that he's running out of time.
Dylan will consider the idea, but there's no guarantee this strategy will work. Victor hasn't exactly been forthcoming so far. Adam is certainly in hot water thanks to all of Victor's secrets and lies. Chelsea will be convinced that they can clear Adam's name if they find Victor's accomplice. She'll put pressure on Kevin to locate the mystery woman ASAP.
Meanwhile, Nikki (Melody Thomas Scott) will sit by Victor's bedside at the hospital. It seems Victor's act of bravery truly touched Nikki. She appreciates that Vic put everything on the line to save her. Nikki will admit that she doesn't want to walk away from Victor.
Related: Michael Graziadei Returning To 'Y&R' As Phyllis' Son Daniel Romalatti
Will Victor and Nikki be able to put the past behind them? It won't be easy, but they may manage to move forward eventually. We're at least seeing the first signs of forgiveness between them. Both Victor and Nikki want this reunion deep down.
Of course, this reconnection could make a difference in Victor's fight to get out of prison. If Nikki is on his side, he stands a much better chance of winning his appeal. She'll do everything in her power to aid the man she loves. Meredith (Alicia Coppola) and the rest of the Newmans could push for Victor's release as well.
Y&R rumors hint that Victor will find himself leaving the state pen before you know it. He's definitely hoping that good news is coming. Stick with the CBS soap for updates on Victor's attempt to secure his freedom.
So Y&R fans, what do you think about these "Young and the Restless" spoilers? Voice your opinion in the comments below and don't forget to check Soap Opera Spy often for the latest "Young and the Restless" spoilers, rumors, updates and news.
Share your thoughts in the Comments section below, on our Facebook Page,  join our Facebook Group or Head over to our Discussion Board to Talk Soaps Daily!